In Broken Dreams, feature film, Johnny (Eddie Navarro) is a documentary filmmaker whose best friends are about to marry each other. Unfortunately for Johnny, he's in love with one of them, Elisabeth (Kelsey Ford). While he helps Julie (Nicole Gerth), a little person who's the subject of his film, move past the trauma of her mother's death and her fear of open spaces, Johnny also begins to rely heavily on drugs to mask his own pain.
Writer/director David Crabtree and actress Nicole Gerth share their thoughts about  Broken Dreams and the Accolade Awards it's garnered.
​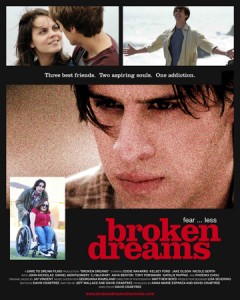 Q: David, what inspired you to be a filmmaker?
A: I've had a passion for it for a long time. In college, I directed some shorts. One of them, The Bedroom, won some awards including the gold award for best experimental drama at Worldfest Houston. After college, I had a successful career as an editor (Psych, NYPD Blue, Las Vegas), but I always wanted to make my own movie. In 2008, I enrolled at the Beverly Hills Playhouse to get some experience working with actors. That was the most inspirational thing that happened to me because I was around young, talented and passionate actors, and realized that I could make a movie with them. As someone who is passionate about my work, I was drawn to these actors that had a similar drive and passion. It was a very fortuitous thing that I ended up in a class with the future cast of Broken Dreams, Edie Navarro, Kelsey Ford, Nicole Gerth, Jake Olson, John Nicholas and all the others, tremendous actors that were hungry to make a movie.
Q: How does television and film differ?
A. There's a huge difference, especially going from a very successful and popular show like Psych and then doing a truly independent feature. On Psych, there is a real budget, and a whole team of professionals to cover all positions including wardrobe, make-up, production design, etc. On a truly independent film, especially a self-financed one like Broken Dreams, the filmmaker has to wear a lot of hats. We didn't have money in the budget for a full crew, so we needed volunteers or we ended up doing everything ourselves. And, we had to use our own homes for locations. Also, the schedules are much faster in television. From shoot to locking picture, it might only be four or five weeks. In indie features, you make your own schedules. Also, pacing and cutting patterns can be much different.
A: Jeff Wallace and I co-wrote the script. Jeff did most of the heavy lifting for it, especially with story and much of the dialog. I would do the final re-writes because I knew the actors so well and how they would speak. Also, as a director, it was my responsibility to make sure all the through-lines worked. It should also be noted that actors Eddie Navarro, Kelsey Ford and Jake Olson collaborated with Jeff and me on the story, and were involved from the beginning.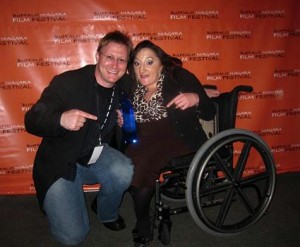 Q: How did you come up with a protagonist who's making a documentary about a little person?
A: Jeff and I always planned to have Johnny as some sort of struggling artist. Jeff came up with the idea to make him a filmmaker, which made me think immediately about Nicole Gerth playing the documentary subject. I knew Nicole well from class and thought she was absolutely brilliant. The scary thing about having Johnny be a filmmaker is that his subject, Julie, had to be absolutely extraordinary in order to sell him as a legitimate filmmaker doing a documentary that was worthy of his passion, and Elisabeth's, the woman he loves,  praise. For this reason, the weight of the whole movie rested on the shoulders of actress Nicole Gerth. Fortunately, she rose to that challenge in such a way that she is winning awards for it. Nicole may be 3'8″, but she has eight feet of talent!
 Q: You created some interesting characters.
A: Personally, I love characters above all else in film. Of course, the story is hugely important and there is no movie without it, but characters are what will get people invested in the film. If you have bold, deep, interesting, lovable, hate-able characters with shades of grey, the audience will be invested in the story. As a filmmaker, I'm most proud of the characters in this film, especially Johnny, Julie, Elisabeth, Tony, and Ryan. They are all complicated, and feel like real people with real relationships with each other. They do bad things, but they start as good people. Or, in Tony's case, here's a drug dealer, a bad person, who shows some humanity and friendship towards Johnny. This is something John Nicholas did extremely well!
Q: How did Eddie Navarro land the leading role?
A: Eddie just blew me away in our class at the Beverly Hills Playhouse. He is a fearless and complex actor with a lot of range and passion. He's a great, lovable guy, but some demons surface sometimes in his acting, in a good way. The role was written for him, as were the roles of Elisabeth, Ryan, Julie, and Tony for those specific actors. Because I was in class with them, I was able to see a body of work from the actors for eight months on stage, which is so much better than a bunch of five-minute auditions. I knew these actors well, and I knew what was in their wheelhouse as far as what they do well.
 Q: What were some 'highs' and 'lows' of filming?
A: There were so many highs and lows that I don't know where to begin! This was a very difficult shoot because of a small crew and many locations. We didn't have any perks or comforts of a big shoot, no trailers or helpers. We had to battle really hot days in stuffy apartments without air conditioning and cold, windy, wet days on the beach. We shot most of the film last April. But then, we went back into production in July and August to shoot more material for the Julie story line. She was originally in only one scene!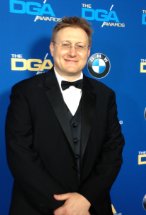 Q: What has winning two Accolade's awards meant?
A: It has already had a huge impact! These were our first awards. And, we were able to win them before we actually got on the plane to go to our first film festival. It gives us much credibility to have an award-winning film, especially from the prestigious Accolade Competition! Last weekend, we went to our first festival, and Nicole took best supporting actress again. Every award, festival and screening builds our resume for when we are ready to distribute this film. It's hard to get a truly independent film noticed, but these awards help a lot.
 Q: Is Accolade a good way to break in for first-time filmmakers?
A: Absolutely! It has already helped put us on the map. People are starting to notice our film. This is my first feature film and really my first festival run, I was too broke to travel with my short, so I'm still learning the ropes.
 Q: Any advice for filmmakers?
A: Do films about characters you love. Put yourself in the movie. Don't make a movie for anyone else, and trust your gut. Find the most talented, like-minded, passionate actors, DP's, composers, writers, and artists you can and collaborate with them. Let them pitch ideas and be open to them. If the ideas fit your movie, use the best that come your way. It doesn't matter who thought of them. Ego will destroy films! Many of the great ideas in this film came from actors Eddie Navarro, Kelsey Ford, Jake Olson, Nicole Gerth and John Nicholas. Kelsey and Eddie in particular came up with huge ideas that made the movie so much better. And, I could not have made this film without the brilliant ideas of cinematographer Matthew Boyd, composer Jay Vincent, writer Jeff Wallace, and producer Anna Marie Esparza, just to name a few.
Q: Any future projects?
A: I'll be directing an episode of Psych in July, and I'm still the supervising editor on the show. After the season, I'll prepare Broken Dreams for distribution and move on to something else, hopefully, bringing this great team back together again.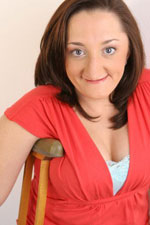 Q: Nicole, did you bring anything personal to the role of Julie?
A: Oh yes, of course! I think everyone can relate to Julie, especially her feeling lonely and like an outsider. There have certainly been times in my life when I was growing up where I felt like I didn't belong or fit in. But just as Julie did, I just found myself and discovered who I really was.
 Q: But you don't fear people as she did?
A: Honestly, no. I'm very much a people person and love being in the thick of chaos. I love people, and I love talking to people. But I think everyone can relate to Julie's loneliness or feeling like an outsider in some way or another. Certainly, we all understand what it is to have a fear, and then the amazing feeling you have when you overcome that fear.
 Q: You once danced in a show despite your physical challenge. What inspired you?
A: I was cast in an experimental dance theatre show called Houdini's Box directed by J'aime Morrison of Cal State Northridge. This was an incredible show about the life and times of Harry Houdini. I was honored to be a part of this show as it traveled all the way to Shanghai China to perform for the theatre/dance students at Shanghai University.
I have a bone condition called Osteogenesis Imperfecta, a rare "brittle bone" condition in which my bones do not maintain and produce a sufficient amount of calcium, causing small stature. But I have never been afraid to take on any role or production due to my physical challenge.
Q: Has winning the Award of Excellence affected your career?
A: This is the first award that I've ever received for my work as an actress! This is truly an honor, and I'm very excited about it. This award certainly helps promote this film as well as my acting career. I plan to use this award recognition as I target future film and television projects.
Q: What future projects?
A: In June 2010, I'll be filming an independent family film called Piehead: A Kinda True Story where I have a fun, supporting role.
Congratulations, David and Nicole, on Broken Dreams a film that's actually fulfilled your dreams.