The Accolade Global Film Competition is pleased to announce that our Award of Excellence winner – The Lady in Number 6 – has won an Oscar for best documentary!
The story: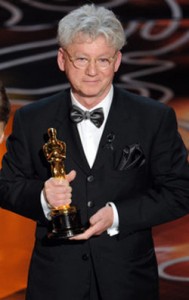 Directed by Malcolm Clarke ("Soldiers In Hiding," "You Don't Have To Die"), produced by Nick Reed, and distributed by Netflix, the film chronicles the life of 110 -year old Alice Herz Sommer, the world's oldest known Holocaust survivor and brilliant concert pianist.
A good friend of Clarke's had been trying to get him to meet Sommer and tell her story for several years. Having already produced a film on the Holocaust (Academy Award nominee Prisoner of Paradise) he was reluctant to do so and put off the meeting for several years. However, upon their first meeting – he knew that he had share her amazing story. Quite simply said Clarke "I've never met anyone like Alice."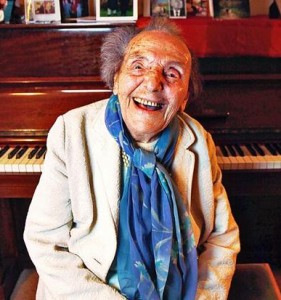 What he and his team created is a moving, stripped down documentary that relies not on fancy camera moves or special effects, but rather tells the story through the lens of the optimistic and inspirational Sommer herself. Clarke didn't want the presence of the filmmaker to be felt, he wanted Alice herself to be the story. While making the film, even at 108 years of age she was able to retell the stories of her life that were fascinating, gripping and amazing.
In an interview with Katharine Relth on Documentary.org, Clarke said, "She is so special and so remarkable, there's not an awful lot we needed to do other than let her be the person that she is. We created a framework for Alice to kind of show who she is and talk about what she believes in."
Her life story is fascinating. Born in Prague at the turn of the century she grew up in a wealthy family whose friends included composer Gustav Mahler and writer Franz Kafka. As an adult she became one of the most celebrated concert pianists in Europe. When the Nazis invaded, Alice saw both her mother and husband sent to Auschwitz and later both she and her young son were sent to a concentration camp. Identified as a pianist who could play hundreds of classical pieces from memory, she was allowed to survive by playing music to entertain the officers. In fact, her music helped her look beyond the horrors of her life and she credits that for her survival.  She was fond of saying "Music saved my life."
However, Clarke was taken not only with the events of her life but, even more powerfully by Alice herself and how she framed the indescribable nightmares she endured under the Nazis.
Alice found a way to derive strength from the experience with a deeply felt philosophy. Alice's vast life experiences led her to understand that hatred eats the soul of the hater, not the hated.
"She's quite different on so many levels" says Clarke, "And the thing that was most striking about her that really convinced me in a nanosecond that I had to make this film was she didn't carry any enmity, no pain, no tragedy. And it's not that she hasn't experienced these things, but she processed them so much differently to everyone else that I met."
A true labor of love:
When Clarke met Alice she was living alone and playing classical piano four hours a day. Although she was vibrant and healthy, Alice was 107 years old and so Clarke knew that if he wanted to tell this story, he would have to act quickly. So he and his team jumped in immediately, without the opportunity to raise funds for the project – they all worked on the piece as a labor of love. No one got paid to do it.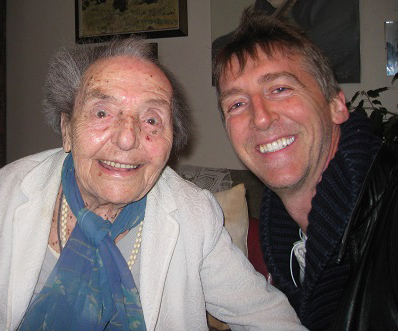 Clarke told Entertainment Weekly "My team all somewhat reluctantly said, If we're going to do this, we just have to do it. And that's what happened. Everyone gave their services free."
Producer Reed (left), when asked about the budget responded, About 35 cents, a bus token and bits of old chewing gum."
The crew was motivated by something other than money for this project. The crew found strength in Alice.
Lives transformed:
According to Clarke, "I think the film is a study of an absolutely remarkable human being who certainly survived the Holocaust, thank heavens, but it's clearly a film which has wider scope and much more to say that just a traditional Holocaust film."
This film has touched audiences deeply and earned significant recognition along the way.
Alice passed away at 110 – a week before "The Lady in Number Six" won the Oscar.  her spirit, wisdom and compassion live on thanks to Clark, Reed and their team.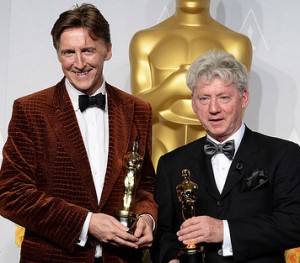 In accepting the Oscar, Clarke noted that he was deeply impacted by Alice's "extraordinary capacity for joy" and "amazing capacity for forgiveness."
According to producer Reed "Telling Alice's story was a life-changing experience for everyone involved with the film.
For more information:
Interview with Katharine Relth: http://www.documentary.org/magazine/meet-oscar-nominated-filmmakers-malcolm-clarke-director-lady-number-6-music-saved-my-life
Movie Trailer: http://www.bunburyfilms.com/films/trailer/doc/alice.html
http://insidemovies.ew.com/2014/02/28/oscar-documentary-shorts-the-lady-in-number-6/