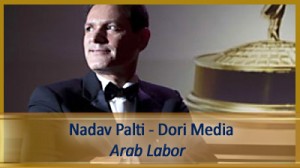 Dori Media Group – Israeli media company specializing in the telenova and much more. 
By Debbie L. Sklar
Dori Media Group is making huge waves in the Middle East, and across the world. Active in the international television market, Dori specializes in the various business aspects of the telenovela genre, i.e., a TV drama which is shown five or six days a week in prime-time or daytime, and has about 120 to 150 episodes over the course of six to 15 months.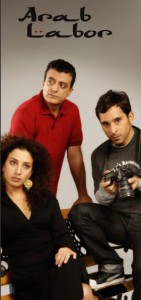 Dori Media Group recently won an Accolade Award for one if its popular TV shows, Arab Labor. From production to distribution to various TV channels and more, this is a media company to watch.
Accolade recently interviewed President and CEO, Nadav Palti.
​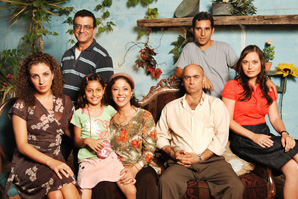 Q: Does working in a sensitive part of the world present any unusual difficulties?
A: Dori Media Group is not affected by the location in Israel. It only gives us the opportunity to create an awarded series like Arab Labor, which deals with the conflict between the two sides with humor. Also, in recent years, a lot of Israeli formats were sold to major players in the market: In Treatment to HBO (now producing the second season), The Ex List to CBS, and Love Hurts to Touchstone Pictures.
Q The series Arab Labor has won the hearts of critics and viewers, tell us about it.
A: A weekly series, it was launched on Keshet that operated three days of the week on channel 2, the leading channel in Israel. It was also broadcasted in RR on a niche channel, targeted for younger audiences, in video on demand of the cable platform and in the internet
Q: How did the idea come about for Arab Labor?
A: Arab Labor was created in the mind of producer, Daniel Paran, and he shared it with Sayed Kashua, an acclaimed journalist. The two thought of an idea to create a series that will look at the situation of Israeli-born Arabs from a cynical point of view.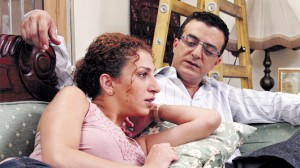 Q Who watches this show?
A: Arab Labor is for general audience and it was aired on the leading Free TV network on prime-time.
 Q: Has the show won or been recognized for any local awards?
A: Arab Labor has won prestigious awards at major Israeli film festivals: Best Television Series at the Jerusalem Film Festival 2008 and Best Television Drama at the International Haifa Film Festival 2007.
 Q: What makes this series a success?
A: Arab Labor brings a unique bitter-sweet glance of Israeli existence. It is a satirical yet sensitive look at the lives of Israeli-born Arabs, who are, by law, full-fledged citizens of the Jewish state but in effect constantly juggle their need to integrate in Israeli society with the loyalty they feel for their identity, values and tradition.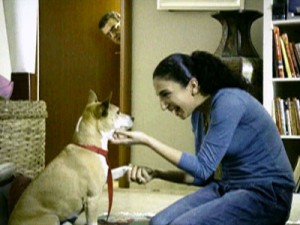 Q: Does the Jewish/Hebrew population find the series entertaining?
A: Arab Labor was an instant prime-time hit when it first aired on Israel's most popular commercial channel. The comedy series also made broadcast history as the first Arabic-Hebrew speaking prime-time show. In the period it was aired, Arab Labor achieved average rating of 18.7 percent and a share of 31 percent.
 Q: Has the series possibly bridged a gap between Arabs and Jews?
A: Only time will tell if the show bridged a gap between Arabs and Jews. It may be a little naïve to believe that a TV series of 10 episodes, 30 minutes each, can bridge a long time differences. However, we want to believe that it gave another look at the long time problem from different eyes and that it is a step in the right direction.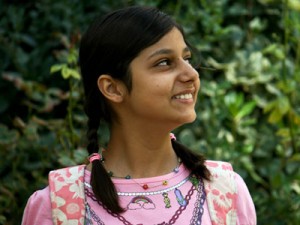 Q: What does the future look like for this series?
A: The series debuted on Link TV in the USA and it is participating in different festivals around the world. The second season of the series is currently in pre-production stages.
 Q: What are the challenges of making this series?
A: Arab Labor is very challenging series, because it deals with such delicate subjects:
• Dealing with worn-out subject in a new way, that will keep the viewers watching;
• Convincing a leading channel in Israel to schedule an Arabic-Hebrew speaking series in a prime-time slot;
• Producing the show in low budget – it was expensive in comparison to other Israeli productions, but it was still low
budget for a drama series;
• Producing a political-social sitcom, without falling into any racist traps; and
• Bringing the situation of Arab-born Israelis to the public eye.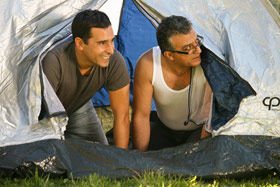 Q: How did the title of the series come about?
A: The first name given to the series was Land of the Forefathers. But the writer insisted on naming the series as Arab Labor which is slang for sloppy workmanship. It was Sayed's way of looking at the situation in a cynical eye.
 Q: How do you settle on specific topics and subjects for your television series?
A: We pick up properties that can fit most of the countries with no barriers of culture or language. After learning the major markets' needs, we started producing new kinds of telenovelas, which were different from the traditional telenovelas in the market. We call them 'new-velas' and they contain all the basic elements of the traditional telenovelas but with an edge – their storyline is more updated and unique; their pace is faster; and the way it is shot and edited is innovative.
Q: What have your learned that would be helpful to new and emerging television producers?
A: Unlike other competitors in the genre, Dori Media Group doesn't produce to a channel it operates. That means that while others produce series with local appeal, Dori Media Group produce for the international viewer. In most of our productions, we try and chose an international looking cast and a storyline that can be adapted in almost any country in the world.
 Q: What are some failures from which you've learned valuable lessons?
A: We always aim to be 'fresh' in the topics we are developing and to create original products. When you are in the lead with innovative ideas, most of the time, the market will follow. So, don't be afraid to invent things and do them for the first time.
 Q: Dori Media Group has won an Accolade Award; does that help in the promotion of your programs?
A: Arab Labor has won prestigious awards at major Israeli film festivals and has been recognized in festivals worldwide. So, it was very rewarding to win an Award of Excellence in the Drama Program/Series at The Accolade Competition. As the sales team of Dori Media Distribution offers Arab Labor to clients, it is helpful that the series gained recognition from a neutral organization.
 Q: What are your next projects?
A: Despite the worldwide financial crisis, Dori Media Group is heading into a great 2009 in terms of productions. A total of about 1,000 new hours will join a varied catalogue of about 4,500 hours. Look for Amanda O, Champs 12, La Maga (The Wizardess), an updated version of the well-known book The Wizard of Oz and the most intriguing product will be Cupido – El Negocio Del Amor (Cupid – The Business of Love), which tells the story of two rival divorce lawyers who are forced to work as matchmakers although both despise the idea of love and marriage. Finally, we have Split a teen telenovela based around 15-year-old Alex who has always felt that she was different, but never really understood why. All changes when she discovers that she is part of a magical world and is drawn into the age-old conflict between vampires and humans. This shocking revelation will force her to choose between her love for human Omer and Leo the vampire.
 Q: Please tell us about the various divisions of the company.
A: The core businesses of Dori Media Group include: Production divisions in Argentina and in Israel with 2,000 square meters of TV studios in Buenos Aires; an international distribution division, selling to about 65 territories and 400 TV channels worldwide; 15 TV channels around the globe, broadcasting on a daily basis (24/7); Novebox.com, the first community web site for telenovelas and Amanda O, the first cross platform telenovela; merchandising, live shows, CD, DVD, advertising, etc.; and technical labs for translating, dubbing, duplicating and other technical services. The Group is traded on the London Stock Exchange, where its symbol is DMG.
Q: What is one of the most saleable and successful product of Dori Media Group?
A: Lalola, which was sold to 64 countries since it debuted in July 2007; about 25 clients bought the format and about 55 clients bought the original product, subtitled or dubbed.