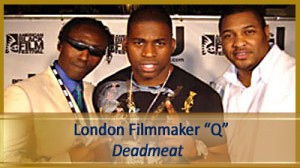 London filmmaker, Q, was sitting under a tree in Africa, while acting in movie directed by Australian director Bruce Beresford, best known forDriving Miss Daisy, when it occurred to him that he might be able to break into Hollywood by writing a book. It would be a roundabout route, but he reasoned that a lot of films were made from books because there is a readymade audience when the film opens.
Q wrote a book, sold it out of the back of his car at night clubs, by mail order, and later 20,000 copies were distributed by a major publisher. It staged as a play in London.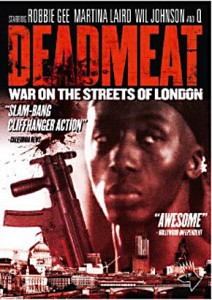 That's the scoop regarding the unique background of the feature film, Deadmeat, produced and directed by Q. It was recently granted an Award of Excellence by the Accolade judges.
We spoke with Q as he was preparing for the screening of his film at the American Black Film Festival in Los Angles.
What's up with the name Q?
Q stands for Quality.
To what well-known films do you most compare Deadmeat?
It's most like L'Argentby Robert Bresson, and Betty Blueby Jean-Jacques Beineix. I am European, so that is my influence; definitely not American Cinema.
What did making Deadmeat teach you about yourself?
I now know that I am resilient and a very good producer.
What was the greatest challenge in making the movie? What fell into place easily?
We shot the whole movie in 12 days. The locations were the only things that fell into place, and maybe that was because I used my own location and that of my friends.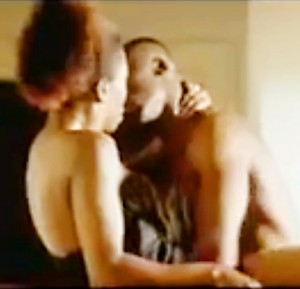 What's your favorite scene in the film? Which scene was the most challenging to direct?
My favorite is the love scene at the beginning of the film. I ripped it off from Betty Blue. No, I should say I was influenced by Betty Blue. When I saw that movie and in the first frame, it was sex, I thought, Wow! You see, that is what I mean by European filmmakers, they take huge risks for their art. America as a culture is safe, safe, safe, safe, so are their films, so it can get a bit boring. However, in Europe we push the boat out; maybe that is why so many of your American actors enjoy coming to Europe and working with our directors and production team. Woody Allen is in the UK now and it is like he has made five films in London; the city seems to have taken over the passion he had for Manhattan. Hell, even a lot of your American directors are using European actors in their projects. We are more risky. The most challenging to direct was the heist in the health shop. Action scenes take time and are expensive. I was running out of time and light, so I had to shoot fast, I opted for a handheld camera.
What were your sources of funding to produce the movie?
My money; I put my money where my mouth is, so there was no complaining, no bitching about the system.
You performed many roles in the production of Deadmeat, writer, producer, director and lead actor. How challenging was that? Was it difficult to direct yourself?
It kept the costs down. I don't have to pay, a writer, director, a lead actor or a producer. I don't direct myself. If I am acting in a scene, I either ask the DOP to direct or the script supervisor who I have known for a long time. They can decide if we are telling the truth.

What was the chemistry among the cast?
It is an ensemble piece; these are actors whose work I admired. It is now my stock company and I shall be using some of them in other productions. We are Europeans, we have a fine history in theatre and that is how it works. There are many American directors that like the ensemble way of working.
Did you use storyboards? Were many of the scenes were improvisational?
This was a low budget movie; we didn't have the budget for storyboards. So, the images were in my head, although, I did draw out the camera angles, and then discussed them with the DOP. However, this was subject to change after the actors ran through the scene. I am very technical, so, after the run through we set-up the shots. There were no improvisational scenes; it all came from the script. However, the actors that I use are very good in the MOMENT, so if they twist words around our come up with a different move as they are doing it, I go with it. That is my job as a director to capture the unexpected, the unrehearsed moments. I go through the rushes during editing looking for those moments. It was a low budget film, we do not have the luxury of shooting endless stock; 35-mm stock is very expensive. I am staggered when I hear stories of how much footage is shot on features and commercials.
How long has it taken you to write, shoot, edit and complete Deadmeat?
It took five years and ten days. I shot the first of the movie five years ago, and then tried to raise money from the UK funding bodies for the feature, but they said no. So, I went away, built up a war chest and came back and finished the movie in ten days.
How did you go about getting your film show at film festivals?
I find the festival circuit harder to deal with than making the actual movie. You have to have a festival strategy. If you enter one festival it could mean that you are excluded from another, or that your film will not be a premiere for that festival. But you have no way of knowing which festivals are going to accept your movie. So, do you accept the invitation to one festival that might help launch your movie, or do you decline and wait for Sundance? And, what if after all of that, Sundance says no? It is a catch 22. So I enter my film into as many as my budget will allow and trust my gut instinct on the decisions I make.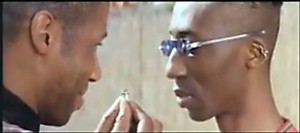 What distribution are you seeking for your film?
Like any filmmaker I am looking for the widest distribution for my movie as possible. However, I do understand that might be a challenge, because a lot of the cast and the director are not recognizable namesakes in the USA or on the international market. Also, apart from the Accolade Award for excellence we have not won another major festival that will make the film stick in the public's mind. So, we have to have a strategy to get a distributor or a sales agent and also in marketing this movie to create a hot buzz.
Do you intend Deadmeatfor general audiences, or does the all Black cast signal that you are seeking selective distribution?
The thing with a black cast is the main issue. A black cast from the UK, with unrecognizable faces could make it a bigger challenge to sell. However, a lot of these kinds of films reach number one in the box. Tyler Perry's recent films prove that, and it also proves that white people do go and see these movies, because you are not going to reach number one in the box office with an all black audience. At the end of the day Deadmeat is a movie and if someone doesn't want to go and see it because there are black people in it, then more fool them. I have grown up watching movies with white people in them all my life and have had no problem. Like I said before, I am from Europe and we push things a little further than the Americans. I am going to use a tried and tested formula that has worked in the record industry for hip-hop music, and for me when I sold the book out of the back of my car, THINK LOCAL ACT GLOBAL.
Would Deadmeatwork as a television series?
I would love Deadmeat to be a TV series. I can write those fast, punchy storylines. I am a fan of the writing style of shows like24andPrison Break. That is where the Americans beat the Europeans hands down. I like the fact that the audiences can't second guess what is going to happen next. The same goes for Deadmeat, just when you think the story is going in one direction it turns and hopefully keeps you on the edge of your seat.
What advise do you give aspiring filmmakers?
Use the internet. It is a great tool for distribution, for creating awareness, and for getting the word out about your movie. We have a trailer on YouTube; it has had 7,000 hits and we are not even marketing it, people are just finding the trailer. Also we are using Facebook and other social networking sites to create our fan base. Mobile phones are a good tool. I say this because a film without distribution is not a film. However, one does not need to follow the traditional Hollywood model, or even the European art house distribution model. The internet and digital technology affords us filmmakers a chance to create a new distribution model, a new genre. That is what is exciting; it is like David versus Goliath, and everybody knows the ending of that story.