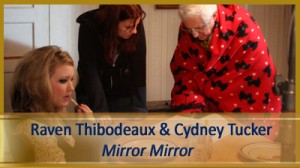 The making of Mirror, Mirror
By: Laura Lee
Mirror, Mirror, winner of a Best of Show award at the Accolade, was a thesis project by graduate students Raven Thibodeaux and Cydney Tucker of the Stephen F. Austin State University's new Master of Fine Arts in Film making program.
Thibodeaux and Tucker were both inspired by the visual aspects of filmmaking. They wanted to come up with a story that could serve as a canvas for striking imagery. They shared a fondness for the work of Tim Burton, the darker side of Grimm's fairy tales and the surreal environments of Alice in Wonderland.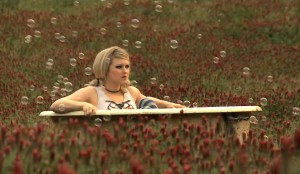 The resulting film is a spooky coming-of-age tale about a young woman who travels to dream-like landscapes by jumping through mirrors.
I think mirrors are creepy, said Thibodeaux, who wrote the script and served as director.
Of course, imagining a Tim Burton-style film is only the first step. Creating it on a film school budget, far from the movie capitals of L.A. and New York was the real challenge. Mirror, Mirror was shot with university-provided equipment. The rest was financed out of pocket by the producers using student loans, volunteer actors and crew and borrowed locations.
It's never going to be what you see in your head, Thibodeaux said, I would love to have had a bigger budget for special effects.
Co-producer Cydney Tucker acted as the production and costume designer on the film. She was tasked with finding the locations.
Having to really manage a movie was a new thing for both of us, she said. We're students, so we have to work with what we can find. It's hard to find what you need sometimes in a small town in Texas. You have to plan your script around that. But when you're in a town where they're not used to this industry, a movie is kind of a magical thing for people. You say you're working on a movie, and you're kind of a rock star. They think you're a celebrity and you get a lot of help because of it. In a bigger city, we'd just disappear.
Locations for the film included a hospital wing and an old farm house.
The farmhouse was the main challenge, Tucker said. We needed to find a person who had a house, who was willing to let us crash it for two weeks. So we had to find an abandoned house.
According to Thibodeaux, the house they eventually were given permission to use had been abandoned in a hurricane and was absolutely disgusting. We cleaned it up. It wasn't the safest house. At one point one of the crew members fell through the floor.
It was also situated close to a field full of uncooperative cows. I live in the burbs, said Thibodeaux, So maybe that's normal. But I had no idea cows could be so loud.
It seemed that every time they went to shoot, the cows would start mooing. Our sound man was always saying, Hold for cows!'
I don't think the sound man ever wants to hear cows again, Tucker said.
Thibodeaux added a line about cow tipping to the script because we were so mad at the cows.
The script also called for a scene in a hospital corridor. Thankfully Tucker's aunt was an emergency room worker. She knew about a wing of the local hospital that was no longer used for patients. Doctor's used it to rest when they were on call. With a little negotiating with hospital administration, Tucker was able to get use of the wing for one day.
In one of the film's most visually striking scenes, the main character appears in an antique bathtub in the middle of a field of flowers. Initially, they had an even more ambitious vision for the scene.
In Alice in Wonderland, The Mad Hatter was mad because of mercury poisoning, Thibodeaux said. So I wanted it to look like liquid mercury.
A bath full of actual mercury was obviously out, and after considering alternatives such as latex paint, they abandoned the idea out of concern for the actor's health and safety.
And then there were the mirrors. Everything had to be meticulously set to avoid reflections of crew members and equipment in the ever-present mirrors. The most difficult scene had two actors in a round silo with mirrors all around.
It wasn't too bad when there was just one mirror, Thibodeaux said, but for the silo scene, I insisted there'd be mirrors all around the room. There were definitely going to be reflections, especially if it was hand held. Every time you'd think you'd got them all there would be a crew member in a reflection of a reflection. Murphy's Law will always get you. So we took that out in post.
Both filmmakers are thankful for the hard work and dedication of their all-volunteer staff. If you're going to have people work or free, you have to feed them well, said Thibodeaux. We had to be creative in feeding them. Without the benefit of a Hollywood caterer, Thibodeaux would pick up a pizza or make a roast at home the night before.
The filmmakers are grateful for recognition by The Accolade.
This is just the first step in what I hope will be a bigger career, said Thibodeaux. If people see it and like it and like what I do, that's great. If they would like to hire the crew, that's even better. I just want to thank everyone who worked on the film. They all worked for free, it was 12 hour days, and no one complained. It was like a family. Being around each other all the time, there will be fights and disagreements, but at the end of the day, everyone is proud of what we did and what we accomplished.