About the Accolade
MovieMaker Magazine named The Accolade Global Film Competition among the top 25 festivals worth the entry fee! 
About:
The Accolade Global Film Competition is unique in the industry.  Attracting both powerhouse companies as well as talented new filmmakers it is an exceptional, truly international awards competition, not a traditional film festival – which allows filmmakers from around the world to enter their films in this prestigious competition.
Established in 2003, Accolade Global Film Competition is an avant-garde worldwide competition that strives to give talented directors, producers, actors, creative teams and new media creators the positive exposure they deserve. It discovers and honors the achievements of filmmakers who produce high quality shorts and new media. The Accolade promotes award winners through press releases to over 40,000 filmmakers, industry contacts and additional international media/distribution outlets.
Our talented award winners have gone on to win Oscars, Emmys, Tellys and other awards.
Where our filmmakers are from:
The Accolade Global Film Competition puts filmmakers first and provides a direct opportunity for recognition and publicity for high quality films and documentaries. It is international in scope and has granted awards to producers in Argentina, Australia, Austria, Bahrain, Bali, Bangladesh, Belgium, Brazil, Bulgaria, Canada, Chile, China, Colombia, Croatia, Cyprus, Czech Republic, Denmark, Egypt, El Salvador, Europe, Finland, France, Germany, Greece, Guam, Haiti, Hong Kong, Hungary, Iceland, Indonesia, Iran, Ireland, Israel, Italy, Japan, Jordan, Kazakhstan, Korea South, Kuwait, Lebanon, Malaysia, Malta, Martinique, Mexico, Monaco, Netherlands, New Zealand, Norway, Oman, Pakistan, Paraguay, Philippines, Poland, Portugal, Puerto Rico, Russia, Singapore, Slovenia, South Africa, Spain, Sweden, Switzerland, Taiwan, Thailand, Turkey, United Arab Emirates, United Kingdom, USA, Venezuela, Viet Nam, and more!
What kind of media:
The Accolade is an excellent venue for film, documentaries,  new and experimental media, television pilot programs, animation, educational programs, remixes & mashups, movie trailers, music videos, webisodes and tube length works.
Judging
Each year Accolade Global Film Competition receives thousands of entries. Quality and creativity are celebrated in four levels of awards: Best of Show, Award of Excellence, Award of Merit and Award of Recognition.
The judging takes place by in-house staff and a committee of industry professionals including Emmy, Telly and Communicator award nominees and recipients.
As with the Tellys and regional Emmy Awards, entries do not compete against each other. Instead, entries are judged against a high standard of merit and are scored accordingly. Judges score entries on a performance scale and winning entries are recognized and awarded as Awards of Excellence, Awards of Merit, Award of Recognition or no award.
Best of Show honors are granted to the top scoring entry for each season.  Awards of Excellence are granted to entries with truly exceptional filmmaking.  Notable artistic and technical productions are recognized at the Award of Merit award level and Award of Recognition recognizes achievement in a specific category of entry .
No fixed number of awards are granted at any level but rather fluctuate based on the total number of entries received for each competition deadline.
Notification:
Each submission received through the Accolade Global Film Competition website or any film portal will be contacted via electronic mail to confirm entry. Film portals such as Withoutabox and Film Freeway generally also notify through their system.
After judging is completed, winners in all categories will be notified of their award and are provided the opportunity to acquire statuettes and other keepsakes to commemorate their achievement. Submissions that were not awarded will be notified after the judging process.
We proudly comply with Film Festival best practices
Serving Filmmakers with integrity is our top priority.
Humanitarian Award:
Each year the Accolade Global Film Competition grants its Annual Humanitarian Award for dedicated service to Social Justice, Animal Welfare, Political, Environmental, Wellness, or Conscious Awareness issues.
Rules/Eligibility
•Submissions in other than English must be subtitled.
•Multiple entries are allowed for each filmmaker and each entry may be entered in multiple categories.
•The entry fee for the first judging category is $60.00. Each additional judging category is $40.00.
•Please provide an online link to your submission and be sure to include the password on the attached online submission form. Or you can send a DVD screener in NTSC format.
•Written comments describing entries are beneficial.
•DVD Entries will not be returned.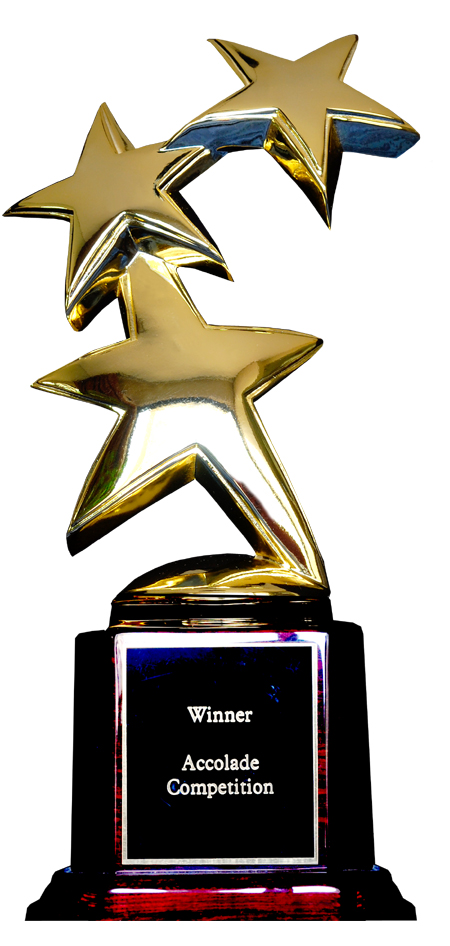 Statuettes
The Accolade statuette is exceptional in this industry and is a work of art.  Covered with 24k gold it is manufactured by the company that makes the worlds' most prestigious and celebrated awards, the Oscar, Clio, and Accolade.  For more information about the statuette click here:
Sister Competitions:
Accolade Global Film Competition sister competitions are the Best Shorts Competition, the IndieFEST Film Awards and the IMPACT DOCS Awards.    All four competitions share administrative offices but have independent judging and judging results from one competition will not influence the outcome of the other.
Click below to submit your project: