About the Accolade Global Film Competition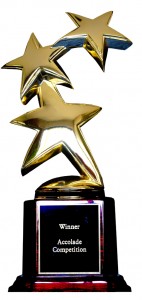 MovieMaker Magazine named The Accolade Global Film Competition among the top 25 festivals worth the entry fee! 
THE ORIGINAL AND THE BEST!
Accolade is the original, top-tier, internationally respected global virtual online competition – recognizing film, TV and media professionals who demonstrate exceptional achievement in craft and story telling since 2003!  There have been many imitators – but only ONE Accolade and the prestige is known throughout the industry.
ABOUT:
Accolade is unique and the industry leader of virtual film competitions. Attracting both powerhouse companies as well as talented new filmmakers, it is an unparalleled, truly international awards competition, not a traditional film festival – which allows filmmakers from around the world to enter their films in this prestigious competition.
Established in 2003, Accolade gives talented directors, producers, actors, creative teams the positive exposure they deserve. It discovers and honors the achievements of filmmakers who produce high quality projects. The Accolade promotes award winners through press releases to over 100,000 filmmakers and industry contacts through FilmFestivals.com.
The Accolade is a also great predictor of future success. Our talented award winners have gone on to win Oscars, Emmys, Tellys and other awards.
Above all, we truly value and honor our filmmaking family.
BENEFITS OF PARTICIPATING:
IMDb QUALIFIED! – You can list your win on the world's most prestigious database
PROMOTIONAL LAURELS – Give your film opening and your promotional graphics that wow factor!
PEER REVIEW – Our judges are Emmy, Telly and award-winning filmmakers who understand both filmmaking craft and what audiences want.
PRESS RELEASE – CUSTOM for you! – Winners receive a fill-in-the-blanks Press Release to promote your win and tips for using it. We've done the heavy lifting – just fill it in and send to media outlets suitable for your work!
SOCIAL MEDIA PUSH – Accolade announces award winners on Facebook and Twitter and winners are encouraged to share and re-Tweet those posts. Winners are also sent to a data base of 100,000 industry pros through our partner FilmFestivals.com.
FEATURES OF ACCOLADE GLOBAL FILM COMPETITION:
PRESTIGIOUS – In winning an Accolade award you join the ranks of high-profile winners like Oscar-winner Malcolm Clarke (chosen by Accolade before the Academy), Disney's Dave Bossert, industry icon Ron Howard – and many more famous (and soon to be famous!) filmmakers.
TELLING – Our talented filmmakers have gone on to win Oscars, Emmys & Tellys.
SOCIAL CONSCIENCE – Accolade grants an annual Humanitarian Award and celebrates work by women filmmakers, LGTBQ+, disability issues, social justice, humanity, animal welfare and environmental issues.
WHY ACCOLADE?
CAREER ENHANCING – Accolade attracts extraordinary work from filmmakers at all levels of experience – from talented first timers to industry heavyweights like Ridley Scott, Oscar-winner Jeff Bridges, Discovery Channel and others. Everyone benefits from the publicity of a win and from professional peer feedback!
UNIQUE – A truly international awards competition, attracting global participation. 70 countries and counting!
INDUSTRY STANDARD – Accolade is IMDb qualified! Listing your award on your IMDb page is invaluable for your projects and future endeavors.
WHAT KIND OF MEDIA:
The Accolade is an excellent venue for film, documentaries, new and experimental media, television pilot programs, animation, educational programs, remixes & mashups, movie trailers, music videos, webisodes and tube length works.
JUDGING:
No Politics!  Fair judging for all entries from Oscar winners to fresh new talent!
We believe that in any competition there are many entries deserving of recognition beyond the "Best of Show". For that reason we have an exceptional model that allows winners to be recognized with different levels of awards.  (like Gold, silver, etc)
Each year Accolade receives thousands of entries. As there are a fluid number of entries into each category on any particular judging season – entries are not judged against one another – each film is judged on its own merits using a high standard of qualifications and are scored accordingly. Judges score entries on a performance scale and winning entries are recognized and awarded as Awards of Excellence, Excellence Special Mention, Awards of Merit, Award of Recognition or no award. Only a single Best of Show is selected each season.
The judging takes place by in-house staff and a committee of industry professionals including Emmy, Telly and Communicator award nominees and recipients.
Best of Show honors are granted to the top scoring entry for each season.  Awards of Excellence Special Mention are the top 10. Awards of Excellence are granted to entries with truly exceptional filmmaking. Notable artistic and technical productions are recognized at the Award of Merit award level and Award of Recognition recognizes achievement in a specific category of entry .
No fixed number of awards are granted at any level but rather fluctuate based on the total number of entries received for each competition deadline.
NOTIFICATION:
Each submission received through the Accolade website or any film portal will be contacted via electronic mail to confirm entry. Film portals such as Film Freeway generally also notify through their system.
After judging is completed, winners in all categories will be notified of their award and are provided the opportunity to acquire statuettes and other keepsakes to commemorate their achievement. Submissions that were not awarded will be notified after the judging process.
WE PROUDLY COMPLY WITH FILM FESTIVAL BEST PRACTICES:
Serving Filmmakers with integrity is our top priority.
HUMANITARIAN AWARD:
Each year the Accolade grants its Annual Humanitarian Award for dedicated service to Social Justice, Animal Welfare, Political, Environmental, Wellness, or Conscious Awareness issues.
RULES/ELIGIBILITY:
•Submissions in other than English must be subtitled.
•Multiple entries are allowed for each filmmaker and each entry may be entered in multiple categories.
•The entry fee for the first judging category is $60.00. Each additional judging category is $40.00.
•Please provide an online link to your submission and be sure to include the password on the attached online submission form. Or you can send a DVD screener in NTSC format.
•Written comments describing entries are beneficial.
•DVD Entries will not be returned.
CATEGORIES:
To see a full list of categories click here: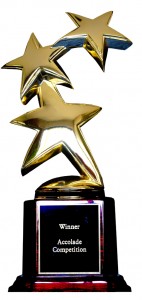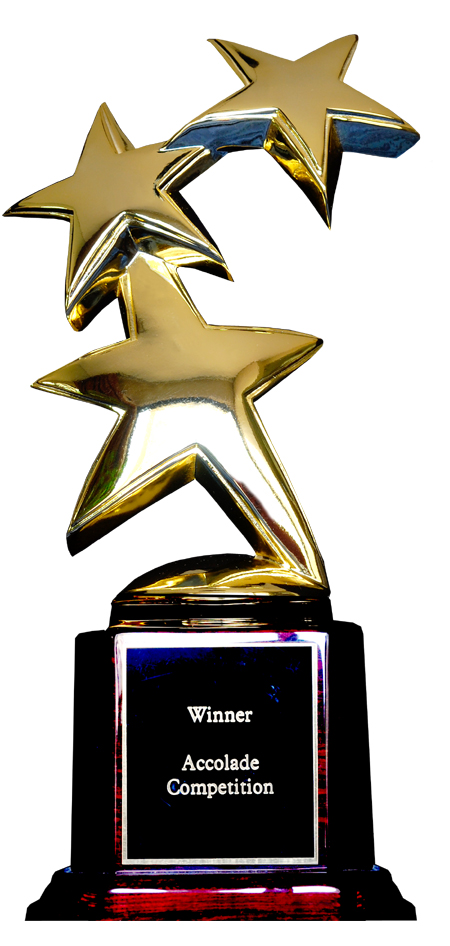 STATUETTES:
The Accolade statuette is exceptional in this industry and is a work of art.  The Statuette is given to the Best of Show winner.  As with the Emmys and Tellys – they are also available for purchase for all other award levels.  Covered with 24k gold it is manufactured by the company that makes the worlds' most prestigious and celebrated awards, the Oscar, Clio, and Accolade.  For more information about the statuette click here:
SISTER COMPETITIONS:
Accolade Global Film Competition sister competitions are the Best Shorts Competition, the IndieFEST Film Awards and the IMPACT DOCS Awards.    All four competitions share administrative offices but have independent judging and judging results from one competition will not influence the outcome of the other.
WHERE ARE FILMMAKERS ARE FROM:
The Accolade Global Film Competition puts filmmakers first and provides a direct opportunity for recognition and publicity for high quality films and documentaries. It is international in scope and has granted awards to producers in Argentina, Australia, Austria, Bahrain, Bali, Bangladesh, Belgium, Brazil, Bulgaria, Canada, Chile, China, Colombia, Croatia, Cyprus, Czech Republic, Denmark, Egypt, El Salvador, Europe, Finland, France, Germany, Greece, Guam, Haiti, Hong Kong, Hungary, Iceland, Indonesia, Iran, Ireland, Israel, Italy, Japan, Jordan, Kazakhstan, Korea South, Kuwait, Lebanon, Malaysia, Malta, Martinique, Mexico, Monaco, Netherlands, New Zealand, Norway, Oman, Pakistan, Paraguay, Philippines, Poland, Portugal, Puerto Rico, Russia, Singapore, Slovenia, South Africa, Spain, Sweden, Switzerland, Taiwan, Thailand, Turkey, United Arab Emirates, United Kingdom, USA, Venezuela, Viet Nam, and more!
  Click below to submit your project: