2022 HUMANITARIAN AWARD WINNERS
The Humanitarian Award  honors filmmakers who are bringing awareness to issues of Ecological, Political, Social Justice and Equality, Health and Wellness, Animals, Wildlife, Conservation and Spiritual importance while at the same time demonstrating excellence in storytelling and filmmaking craft. Congratulations to this year's illustrious winners who are committed to making a difference in the world through memorable filmmaking. To read more about the award click here:

Susan Kucera – 12th Hour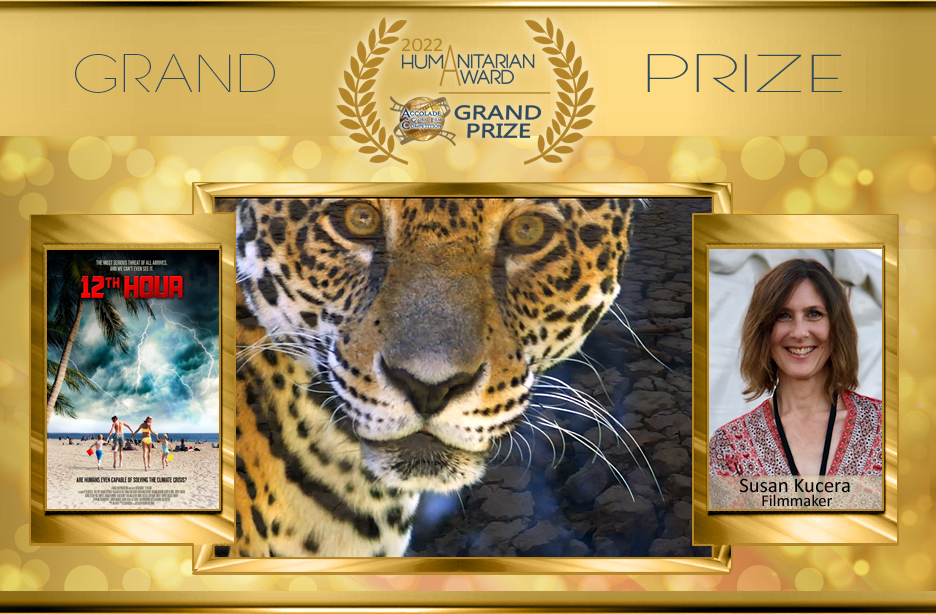 Susan Kucera (USA), 12th Hour, Doc Feature – Emmy-nominated actor David Morse narrates this brutally honest doc with insight from noted evolutionary biologists, climate scientists, cognitive researchers and psychologists. This exceptional doc uniquely weaves together the importance of human psychology in solving humanity's biggest ecological crises. Given the same evolutionary traits that have allowed humankind to thrive, are we actually capable of effectively responding to climate change? Visionary thinkers lay out an unflinching look at mankind. The 12th Hour lays out our biases so that we may overcome them. Deft direction, potent script, provocative questions. Rangeland Productions. Produced by Jim Swift.

Farnoosh Abedi (Iran), The Sprayer, Animation – Abedi's deft direction combined with his exceptionally creative and meticulous characters and scenes – bring to life a dystopian future weaving in cautionary tales from our past. Superb animation and imagination of every detail of this animation all highlight the message of this potent film. A heartbreaking and heart-warming tale expertly crafted in absolutely every way.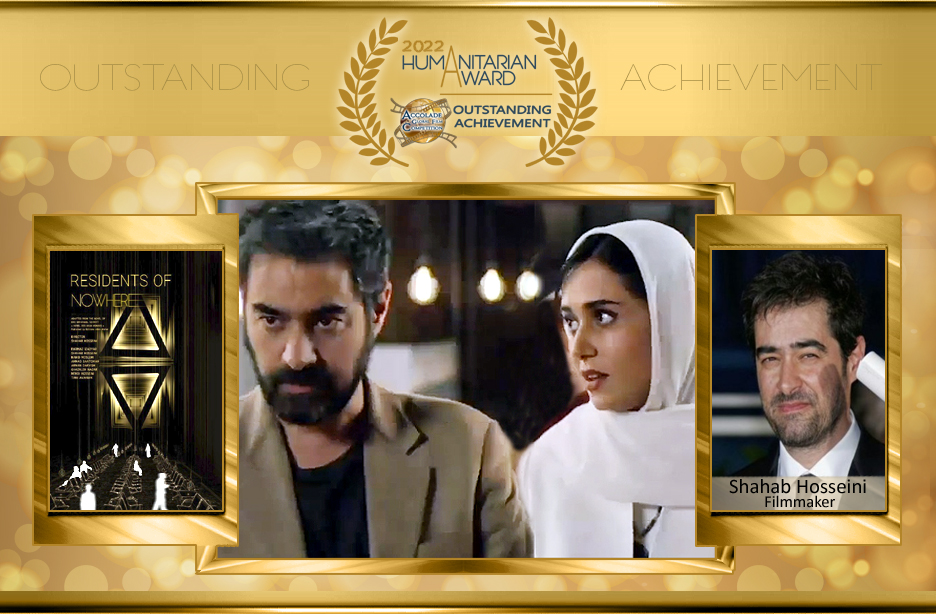 Shahab Hosseini (Iran), Residents of Nowhere (Moghimane Nakoja), Film Feature – An impeccably crafted film examining the most profound existential questions faced by every living human.  Hosseini's deft direction and exceptional performance inspire poignant introspection. Unique, creative production and lighting design carry the story in subtly profound ways with courageous and extraordinary cinematography. Achingly authentic performances by a talented cast. Cannes Film Festival best actor Shahab Hosseini (Oscar-winning film The Salesman), Parinaz Izadyar (Abad va yek rooz), Nahid Moslemi (Drown), Ghazle Nazar (Nargesi), Ahmad Saatchian (Rest in Silence), Arman Darvish (The Human Comedy), Mehdi Hosseini, Teni Avakian.  From 7Skies Entertainment.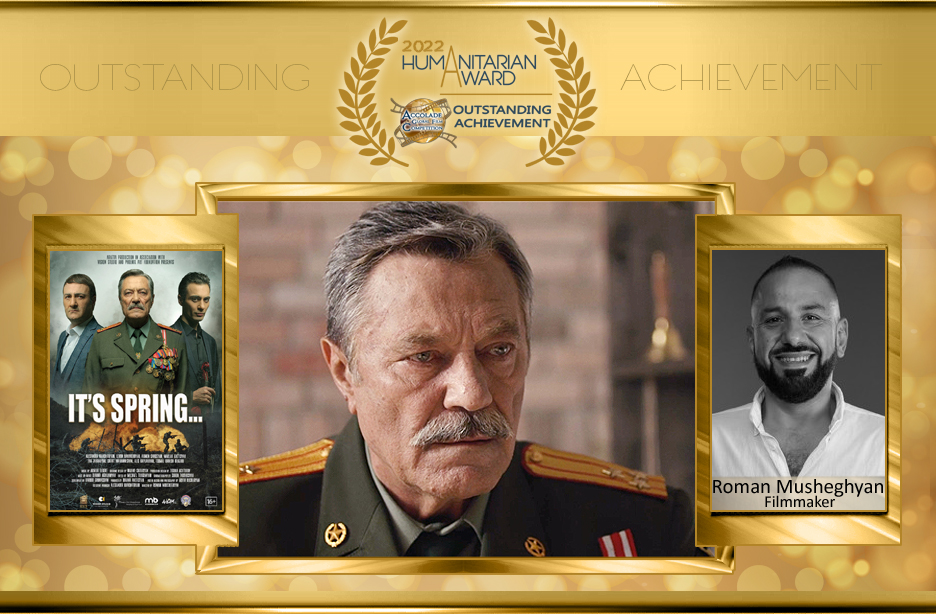 Roman Musheghyan (USA / Armenia), It's Spring… (Garuna), Film Feature – Inspired by real events of the four-day war in Armenia in April 2016 – this tightly directed feature film highlights three generations of father-son relationships – with incompatible ideologies and tragic consequences. A well-researched and artfully crafted script, exceptional performances by a talented cast. Outstanding production, sound design, score, editing and cinematography. Stars: Alexander Khachatryan (Betrayal, The Leaders), Levon Hakhverdyan (Mechanics of Happiness), Marjan Avetisyan (Power) and Armen Margaryan (Manyunya) – Honored Artist of Armenia.  Phoenix Art Foundation.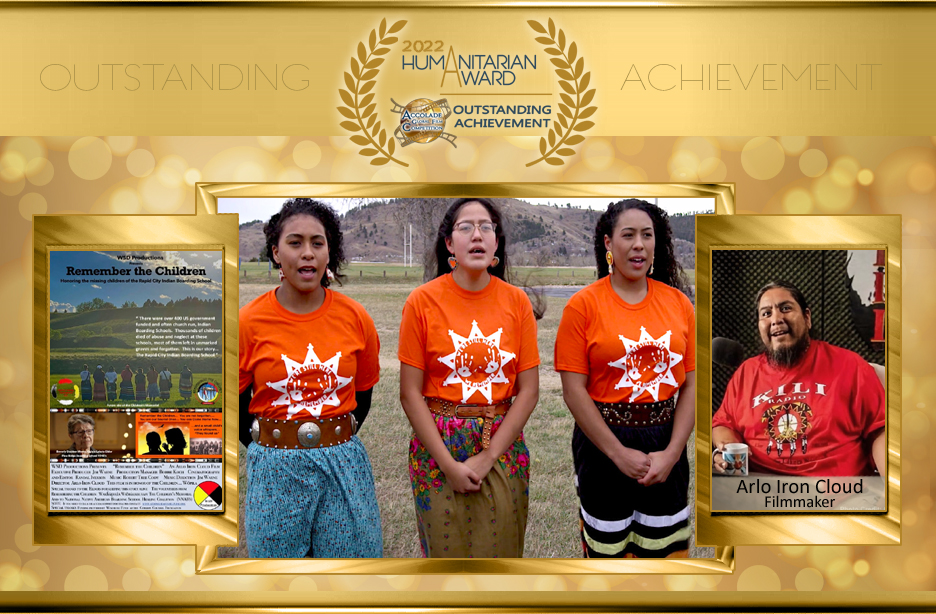 Arlo Iron Cloud (USA), Remember the Children, Native American / Aboriginal Peoples – the story of the 400 government Indian Boarding schools, their goal to erase native culture and the often-horrific abuses of indigenous children there – including thousands of deaths. Insightful and impactful.Tracing the efforts of the elders and communities who are keeping their stories alive through creating memorials. A touching tribute.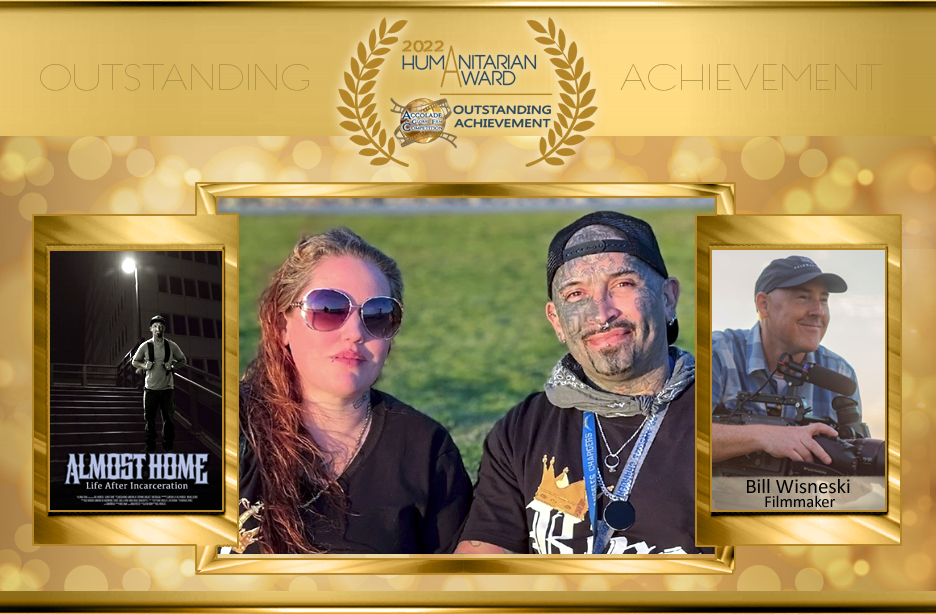 Bill Wisneski (USA), Almost Home:  Life After Incarceration, Documentary Feature – examines the many challenges individuals face when they get released from prison and the positive impact they can have if given the opportunity to succeed. This unique film follows formerly incarcerated students enrolled in an innovative program at a community college. Their inspiring stories illustrate how education and support can transform lives, open doors to new careers, heal trauma, and uplift entire families and communities.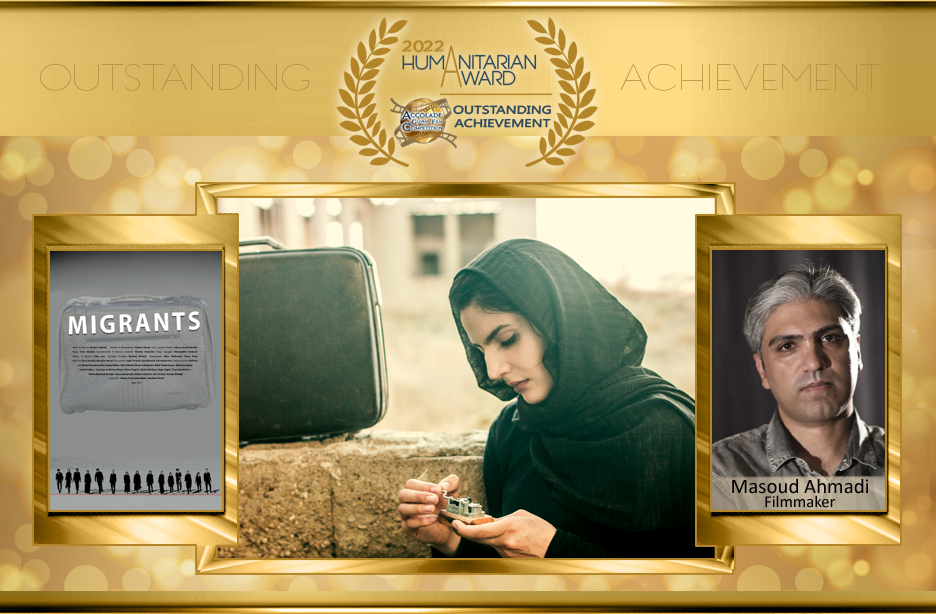 Masoud Ahmadi (Iran), Migrants, Experimental – An experimental film with no dialogue  creatively and potently exposes the brutal reality of Migrants being unearthed from their homes and homeland through violence and fear. A brutally honest and exceptionally innovative depiction of this gut wrenching humanitarian crisis. Artistic cinematography, excellent sound design, imaginative direction and a potent yet understated cast.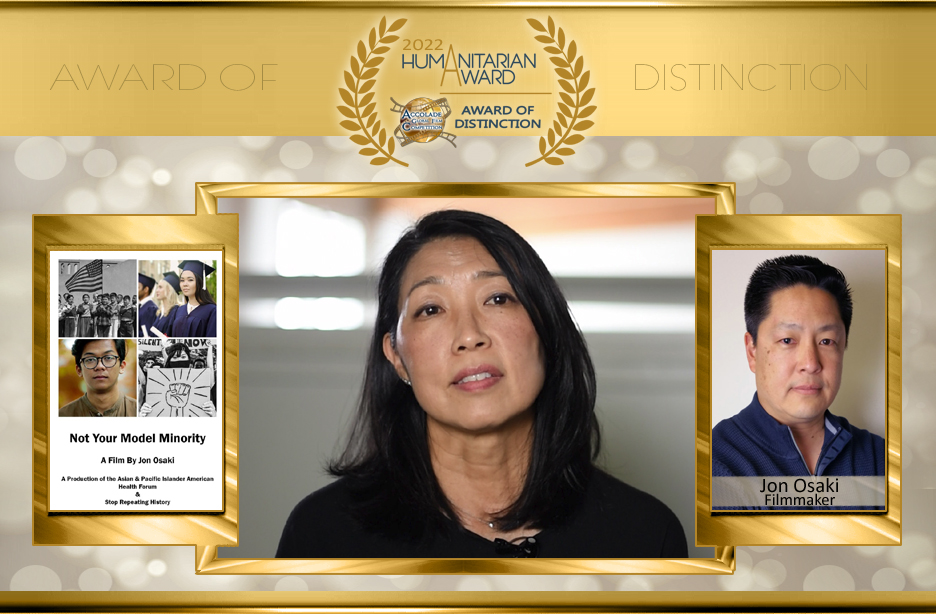 Jon Osaki (USA), Not Your Model Minority, Asian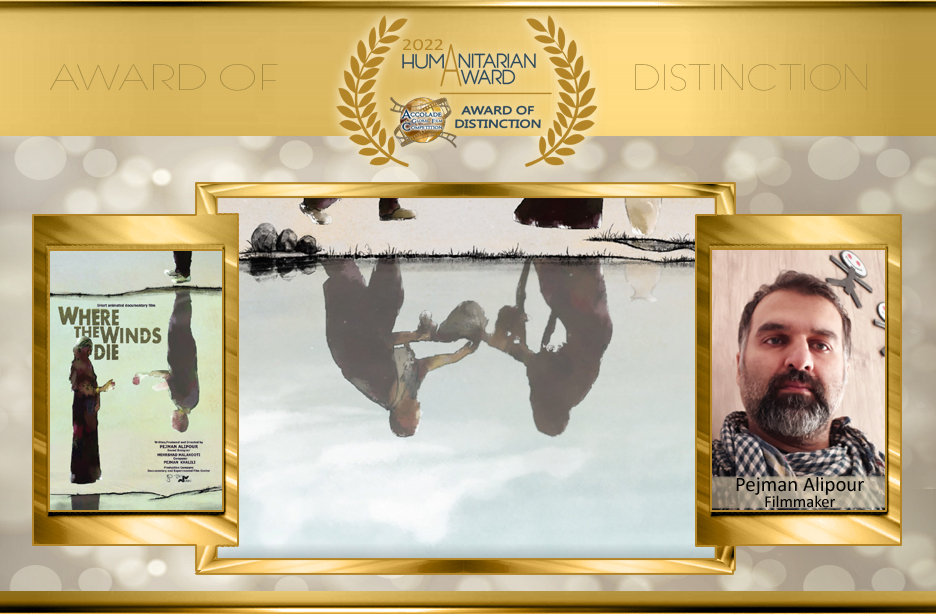 Pejman Alipour (Iran), Where the Winds Die, Animation
Sean Schiavolin (USA), Beyond Homeless: Finding Hope, Documentary Short
Lisa Gerstner (USA), EARL BISS, The Spirit Who Walks Among His People, Documentary Feature, Native Peoples
Igor Pronin (Latvia), Dialogue in the Silence and in the Dark, Disability Issues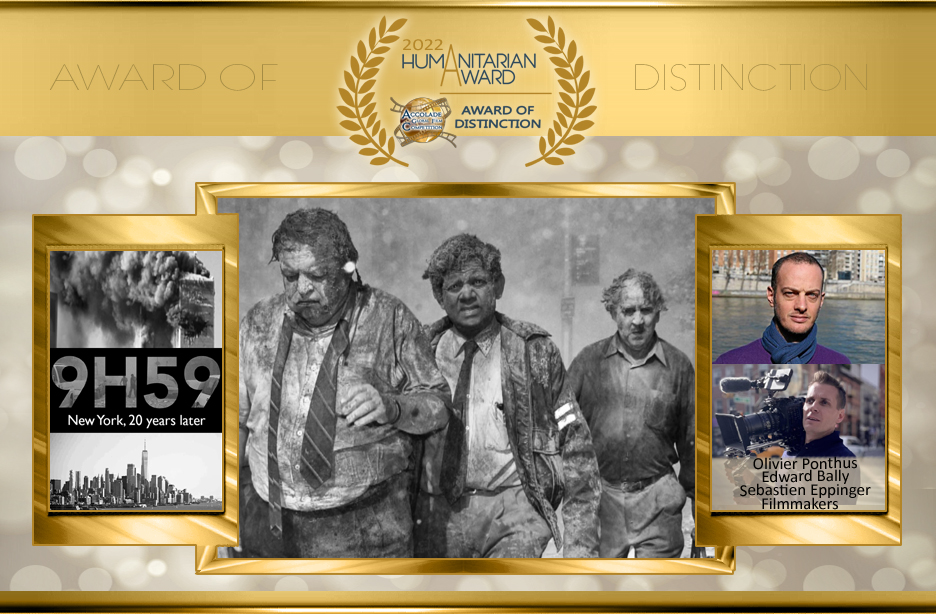 Olivier Ponthus, Edward Bally and Sebastien Eppinger (France), 9:59AM, Documentary Feature
Saïd Abitar and Curt Fortin (Germany), Akesi and the Secrets of the Forest, Children / Family Programming
Chenguang Xie (China), Exhausted, Film Short
Yaser Talebi (Iran), I Won't Remain Alone
Kevin Adamson, Samaritan's Purse (USA), Uprooted: An Afghan Evacuee Story, Animation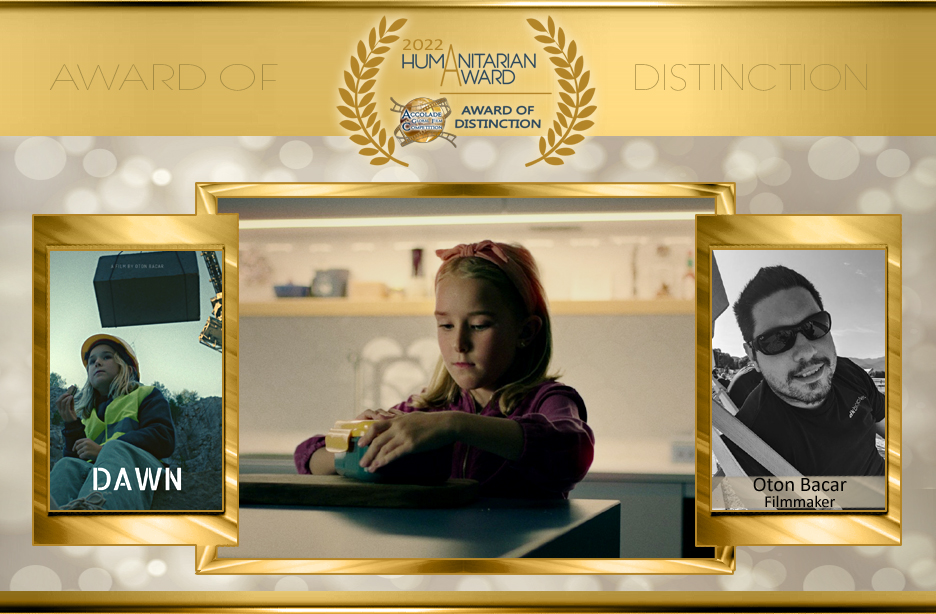 Oton Bacar (Slovenia), Dawn, Public Service Announcement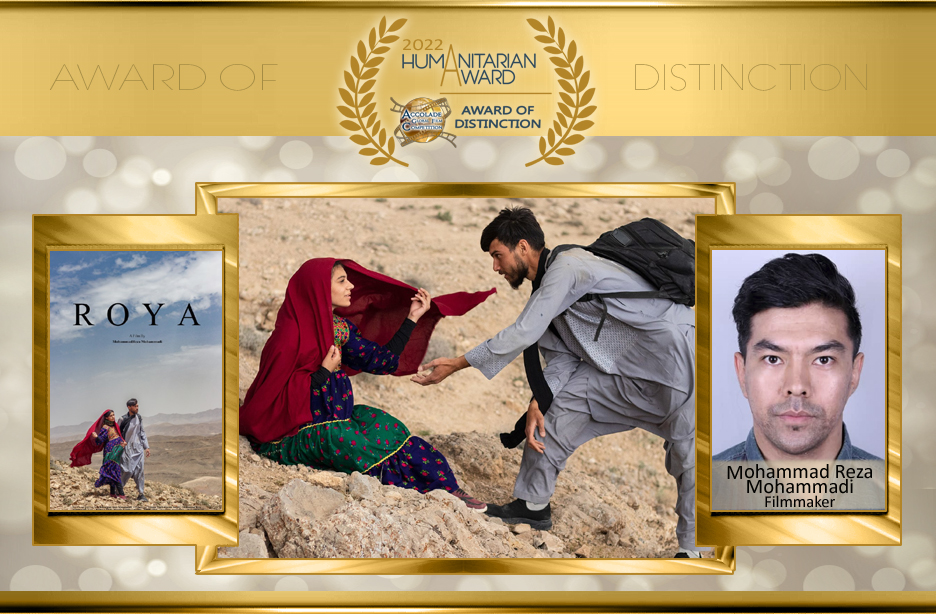 Mohammad Reza Mohammadi (Afghanistan), Roya, Film Short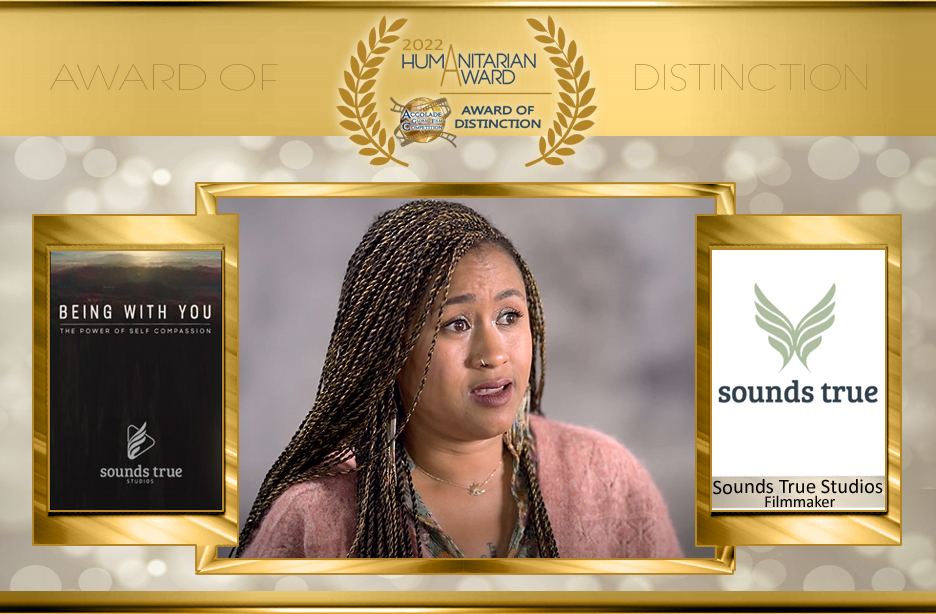 Sounds True Studios (USA), Being with You: The Power of Self-Compassion, Doc Feature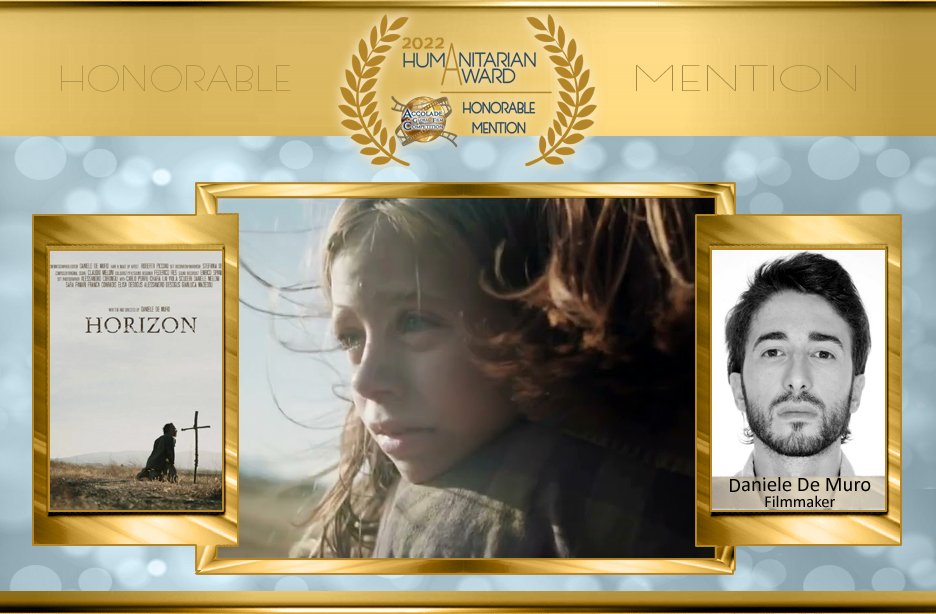 Daniele De Muro (Italy), Horizon, Film Short, Cinematography
Jaime Jacobsen (USA), Crop Diversity Series, Educational / Instructional / Training, Web Series
Craig Daniel Leon (Ecuador), Dipsas Speaks, Nature / Environment / Wildlife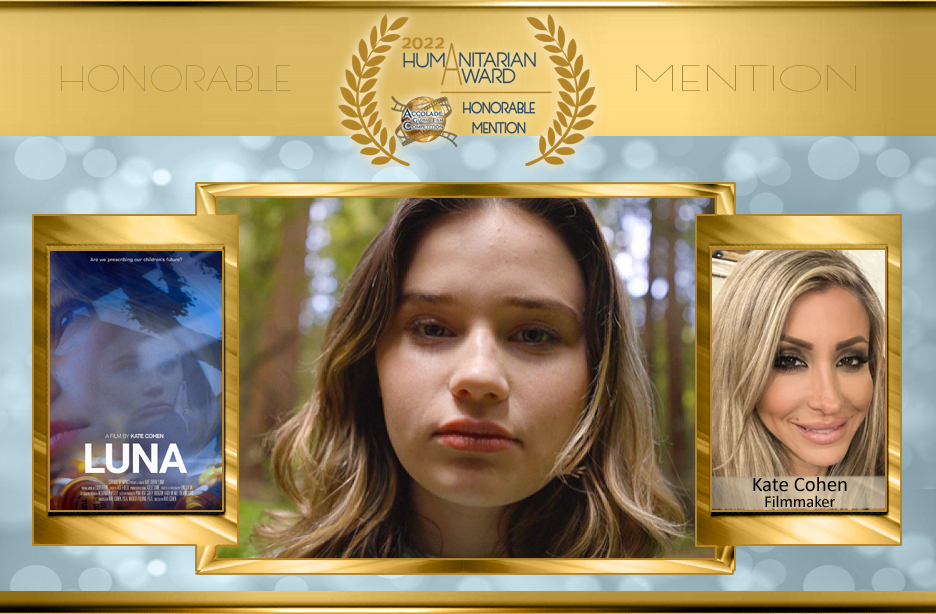 Kate Cohen (USA), Luna, Documentary Short
Marc Cunningham (USA), An Interview with the Times, Film Short
Alexandra Alekhina (Russian Federation), Hold My Hand, Film Short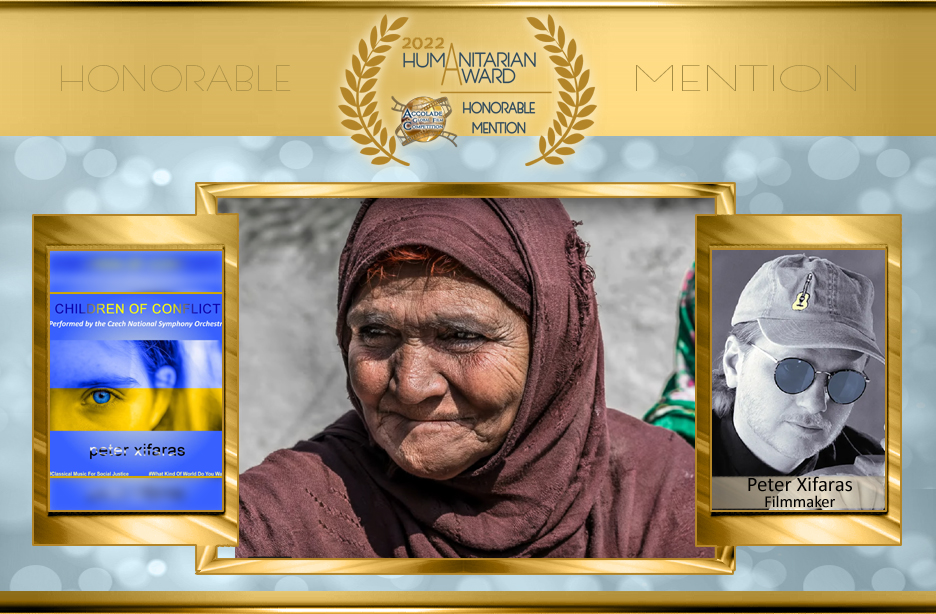 Peter Xifaras (USA), Children Of Conflict-Mother's Lament, Music Video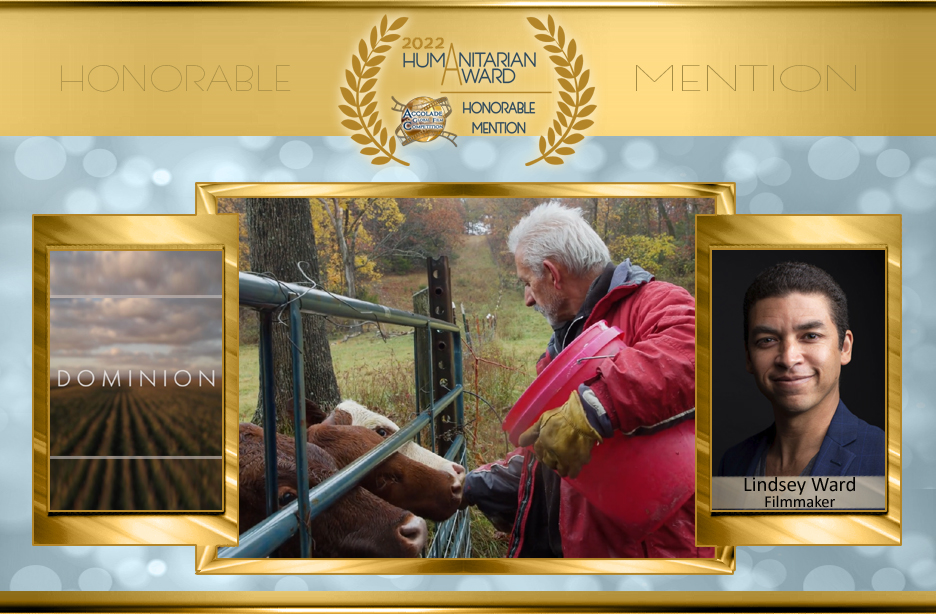 Lindsey Ward (USA), Dominion, Documentary Short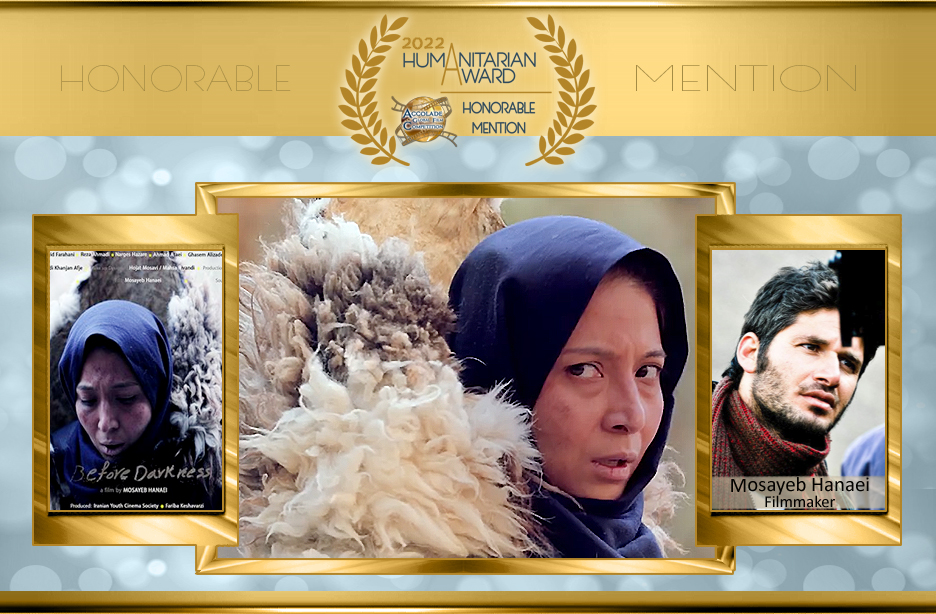 Mosayeb Hanaei (Iran), Before Darkness, Film Short
Oleksandr Lozytskyi (Ukraine), Tierra del Fuego, Nature / Environment / Wildlife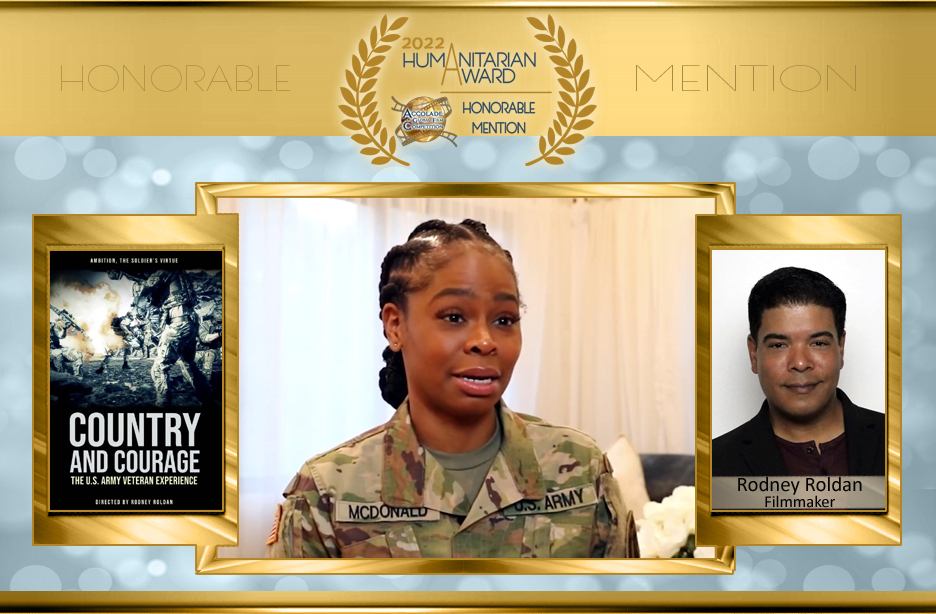 Rodney Roldan (USA), Country and Courage, Doc Short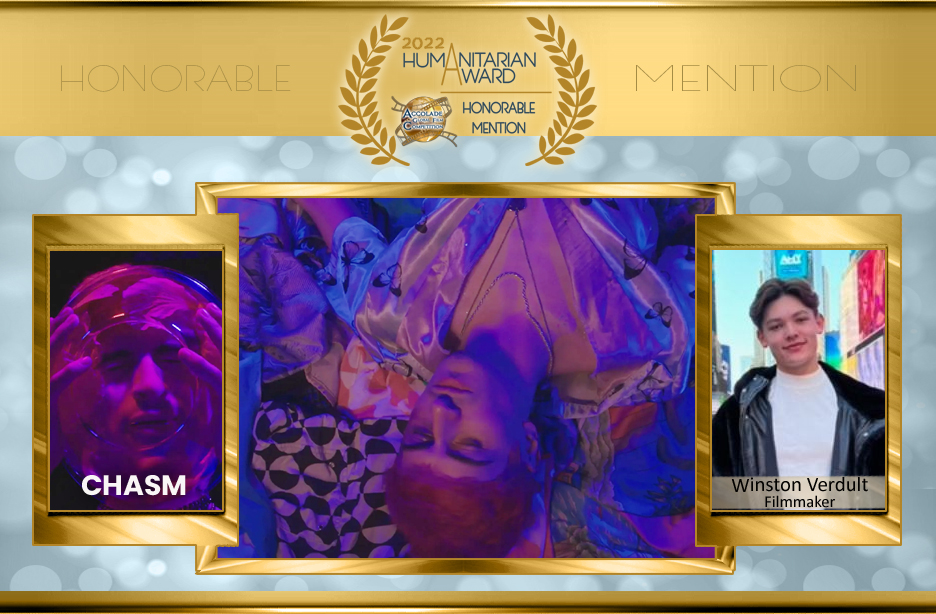 Winston Verdult (USA), Chasm, Film Short (Student)