Chera Van Burg receives Accolade's annual Humanitarian Award for her documentary, Call of Life: Facing the Mass Extinction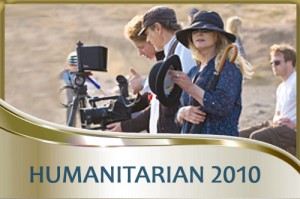 Written by Wendy Helfenbaum
The 2010 award to Chera Van Burg in recognition of her documentary, Call of Life, which raises awareness among the public about the plight of other species.
Award-winning filmmaker Chera Van Burg wears a lot of hats: psychologist, educator, musician and activist. But each hat seems to fit her ultimate goal: to compel people to appreciate the world around them, and act now to save the biodiversity of our planet.
‹Accolade's annual Humanitarian Award is given to a filmmaker, television producer or videographer who makes a significant contribution to social change or a humanitarian effort. As producer of Call of Life: Facing the Mass Extinction, winner of this year's Award for Excellence, Van Burg's main goal was to thoughtfully expose the plight of the earth's species to a wide audience.
The film, which has been referred to as ˜the Inconvenient Truth of mass extinction', took four years to make and its release in the fall of 2009 was perfectly timed: The United Nations named 2010 the Year of Biodiversity, stating that one quarter of all mammal species face extinction in 30 years. It's this very loss of biodiversity caused by the mass extinction (ME) of hundreds of species of animals, marine life and plants that will eventually bring about the collapse of our ecosystems, the life support systems we all depend on in order to exist.
In my films, I look at the cultural and psychological issues that are directly linked to the causes of environmental destruction,notes Van Burg. The mass extinction is what I call the ˜big umbrella' of all environmental issues; it links to everything that we're dealing with, like climate change and global warming. It's also entirely human-caused, so we can make changes; we can fix this.
The beginning of a big idea
Five years ago, Call of Life's executive producer, David Ulansey, approached Van Burg. David had seen a film I had made that dealt with environmental problems that I linked to psychological and cultural problems, recalls Van Burg. He was inspired to get a team together to make a film about the ME. Our goal with this film has been not only to show the direct causes of the ME, but also the psychological and cultural underpinnings that have allowed the situation to develop. Our film tells the story of a crisis not only in nature, but also in human nature. As one of our interviewees, Norman Myers says, ˜this is the biggest issue humanity has ever faced'.
The film emphasizes that we are currently experiencing the sixth mass extinction,? a destruction of biodiversity brought on by global warming, pollution and other factors caused entirely by things we do every day. "The last one was 65 million years ago when an asteroid is believed to have hit the planet and caused the dinosaurs to become extinct,says Van Burg. The difference is this one is entirely human caused.
Experts weigh in
Van Burg admits that most people have never heard about the ME, and Call of Life wanted to change that, by featuring thought-provoking interviews with dozens of leading scientists, environmentalists, historians, and visionary thinkers, including paleonanthropologist Richard Leakey, author of The Sixth Extinction, Norman Myers, renowned Oxford University authority on biodiversity, Stuart Pimm, distinguished Duke University conservation scientist, and Gretchen Daily, one of the world's leading ecologists.
We chose our scientific experts on the basis of their unquestionable credentials and knowledge of the field, because if we're going to be presenting this information to an audience, we want to stand behind it,? explains Van Burg. We also chose people like Ignacio Chapela and Tyrone Hayes that are examples of scientists who corporations or even their own universities have tried to silence or attempted to deny them tenure because their research was an indictment of the harm that these companies were doing to the environment.?
Pretty as a picture
Much of the film's gorgeous cinematography featuring wildlife in their natural habitat is high-quality licensed stock footage or visuals purchased from other photographers and filmmakers. Our decision to do this was two-fold,? explains Van Burg. We wanted to keep our footprint light. I like to call this ecologically conscious filmmaking; rather than use fuels we would need to fly to locations and impact fragile areas, we utilized the abundance of really high quality footage already available. We also needed to use our limited resources in the best way possible.
Van Burg's team raised about $175,000 from grants and donations, and deferred everyone's salary to pay for the rest, calling the project a labor of love. Director Monte Thompson brought high production values to the editing suite, including the widespread use of motion graphics to help viewers grasp a variety of complex statistics and theories. We also used dance sequences that we shot and created especially to help illustrate difficult psychological or cultural concepts. We really wanted to bring an artistic element to the film, to give a poetic sensibility to contrast and complement the ˜talking head' aspect,adds Van Burg.
Original music, composed by Richard Wormstall and Hans Christian helped create a mesmerizing background for powerful images, including a stunning yet heartbreaking aerial shot showing the stark depletion of the Rondonia rainforest in Brazil. I've seen that visual many, many times now and still I always gasp. A picture really is worth a thousand words,says Van Burg.
Information overload
Perhaps the most difficult aspect of making Call of Life was figuring out what not to include. The material in the film is just a small portion of all the information that we gathered over four years. It was incredibly challenging to put this together in a coherent and cohesive form that would really make sense to people without completely overwhelming them, says Van Burg.
It also didn't hurt to get a little star power behind the project: longtime environmental activist and respected actor Peter Coyote agreed to be the film's narrator. We had initially asked Peter to do a narration for the ten-minute preview of the film, which was integral in raising additional funds, and having Peter as our narrator was very helpful to that. His wonderful voice and his own commitment to environmental concerns made his narration all the more powerful.
Shock factor
Van Burg notes that learning about the urgency of the ME really struck her during the making of the film. The most shocking thing to me was how short a period of time we have to make critical decisions in order to stop the progression of it,? she says. The experts we spoke to said we have five to ten years to turn this around. That has since changed; we now have even less time. Even the statistics in our film have become bigger in just a few years.
Van Burg's team also strived to create awareness of this huge issue through Species Alliance, a non-profit organization created by the filmmakers for networking, outreach and educational purposes. We can't do anything if we're not aware,? explains Van Burg. We wanted to provide an avenue for people to group together for support and to take action.
Accolades all around
Van Burg was deeply grateful to accept the Accolade's Award for Excellence. An award like this is hugely important. It's an endorsement of the film and as such, people not only will take notice, but are more likely to take its subject matter seriously, she notes. That's so important to us, because with that kind of endorsement and the fact that the film is likely going to get more viewings, people are going to take action and change the course of humanity.
Van Burg learned a great deal during the making of Call of Life, and shares some advice for filmmakers interested in exploring complex social issues. In order to take something like this on, a filmmaker must be really passionate about the issue and have the stamina to see it through,? she says. The wonderful thing is a lot of people do have that passion about issues these days. It's also important to have the support of a passionate crew around you, because it takes a long time. Also, do all the research necessary to support the message of your film. This is the obligation and responsibility of any filmmaker taking on important social issues. Finally, a detailed, finely tuned script is as essential for a documentary or point of view film as it is for a narrative film. It's really essential for unfolding the film on these huge issues. No matter what type of film, it is still a story above all.