One minute with Alicia Arinella: What You Can Do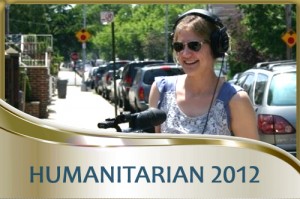 by Yayoi L. Winfrey
Winner of the 2012 Accolade Competition Humanitarian Award, Alicia Arinella exemplifies filmmaking with a conscience. Producer of one-minute length videos that focus on global issues like the environment and social causes, her goal is for viewers to help change the world with one minute of action. Instead of just highlighting a problem, her series, What You Can Do, offers solutions that can be completed in just one minute.
Recently, Alicia took time from her hectic schedule at On the Leesh Productions to discuss her ongoing work:
Q: Alicia, what was your path to filmmaking?
A: After stage managing theater productions in high school, I graduated with a degree in Film Production from Boston University. I worked a variety of jobs in New York after graduation, everything from publicity and promotions for New Line Cinema to production for Nickelodeon and Nick Jr. Eventually, I realized that I wanted to produce and start my own company. The acclaimed short film, What Are the Odds?, became the first project for On the Leesh Productions. Since we've always been a small company, I've done most of the production work as well as directing, editing, and sound mixing. We've gone on to produce 11 short films, one feature, two documentaries, three comedic web series and, for the past few years, What You Can Do has become our flagship project.
Q: Have you always been aware of problems that impact the world?
A: My parents always instilled in my sister, Jessica, and me a deep sense of the reality of the world around us. We grew up with two loving people who always gave back to the community and were beyond generous. We were drawn into community service by learning from their example. I've been involved with various aspects of volunteerism since I was about 12 years old, from working with kids with disabilities to serving food at a soup kitchen in New York City. Giving back brings so much to my life, and I enjoy sharing this passion through What You Can Do.
Q: How did you come up with the idea for the series?
A: My sister Jessica initially came to me with the idea for What You Can Do in 2007. We lost our mother to cancer in 2005, shaking up our entire lives and making us look at the world in a completely different way. My sister and I were watching a lot of documentaries at that time, and she began to realize that although they did a wonderful job illuminating various issues, they didn't really offer ideas to help make a difference. Inspired by the possibility of turning frustration into action, Jessica pitched the idea of the show to me. We came up with the one-minute concept as the show evolved, hoping to show our power to make a real impact in our everyday lives. So many people are insanely busy these days, but everyone has one minute to help. One minute may not seem like a lot, but your minute combined with my minute, combined with my friend's minute, can really add up to measurable change.
Q: What are some of the challenges producing it?
A: One of the biggest challenges has always been funding. Even though the project premiered on PBS affiliate WLIW here in New York and expanded to WNET affiliates THIRTEEN and NJTV, What You Can Do lives primarily on the web. Funding for web-based projects is still in its infancy, and it was even harder to get sponsorship when we premiered in 2009. The Internet still isn't featuring as many documentaries as it is narrative work, so sponsorship tends to gravitate more towards projects like comedy web series.
In addition, I set ambitious goals for the series from the start. The original suffix came from a plan to devote a video for each day of the 2010 calendar year. Jessica and our colleague, Julie, thought that was too ambitious, so I toned it down to 261, one video for each day of the work week. This was still an enormous number, so we were constantly writing, shooting and editing these videos while dealing with all the responsibilities of a full-service production company as a team of three. With the growth of What You Can Do and our corporate video arm, we have been able to hire more support; but in the beginning, we put in a lot of late nights.
When developing the series, we thought it would be more difficult to find one-minute ways to help important issues from hunger to ocean pollution. After working with dozens of leading non-profits however, we discovered so many ideas to make a difference for even the most pressing challenges.
Q: What have been the greatest rewards?
A: I would say that the greatest reward from this project is hearing from people inspired by the idea of changing the world, one minute at time. I've heard so many people say, œThis is exactly what I needed. I have always wanted to help, but I didn't know how, and you've shown me where to start.? It's so fulfilling to know that your work has a positive impact on the people around you. This response makes it worthwhile and inspires me to carry on through the challenges.
It also means a tremendous amount that we've been able to highlight the work of various non-profit organizations and collaborate with them through our dynamic social media community. For instance, we've helped raise over $57,000 for animal rescue groups, helped to protect one acre of rainforest, shared over 10,000 acts of kindness and compassion, and assisted in donating 500 free mammograms to women in need. Being able to bring the What You Can Do message to so many people and watch us all make a difference has been tremendously gratifying.
Q: Can you explain the connection among various world issues, how some affect others?
A: One of the coolest things about taking one minute to help an important cause is making a positive impact in more than one way. We partnered with The Rainforest Site for Earth Day to help save endangered rainforest, one square foot at a time, with a social media campaign. We may associate rainforest preservation with protecting wildlife, but deforestation has a tremendous impact on climate change. One statistic I found especially shocking is the loss of our forests contributes to between 12 and 15 percent of all greenhouse gas emissions each year, roughly the same percentage as all the world's trains, planes and automobiles combined. So, when you purchase Rainforest Alliance certified, such as coffee and chocolate, you not only help protect many animal and plant species, but fight climate change, too.
Q: How has winning the 2012 Humanitarian Award from Accolade helped bring awareness to causes you believe in?
A: I am so honored to receive the 2012 Humanitarian Award from the Accolade Competition. They have been such a supporter of our project from the beginning. I can't tell you how much this recognition means to me. Winning this award has really brought a different level of legitimacy to the project. It's helped What You Can Do grow from a video series into our initial idea of a one-minute movement to change the world. It's brought the ideas to a wider audience, and brought us recognition that we never anticipated. This award has allowed us to motivate more and more people, and inspire them to spread the message that small one-minute steps can really add up to real change.
Q: Any future plans?
A: We have a number of different campaigns slated for the remainder of the year. This summer, we teamed up with the Monterey Bay Aquarium and the Parker Manatee Aquarium to highlight the issues currently impacting our oceans, from overfishing to coastal cleanup to wildlife conservation. With insight from leading experts, we've been able to inspire our audience to take simple actions to preserve the beauty of our beaches for future generations.
In September, we will team up with the Anti-Defamation League to present ideas on how people can combat the issue of cyber-bullying in just one minute. In addition, we will partner with Rachel's Challenge for our second annual Kindness Week campaign, asking people to pledge to take sixty seconds to perform a compassionate act for someone.
Throughout October, we'll highlight one-minute ideas to support Breast Cancer research and, in November, we will focus on the current state of hunger in our country through our partnership with Holy Apostles Soup Kitchen, the second largest soup kitchen in the country. We'll recap the year in December, revisiting campaigns to honor our troops with Soldier's Angels and protect the night sky with The International Dark Sky Association. And in the beginning of 2014, we plan on raising awareness for pets in need.
We will continue to grow the What You Can Do platform online and explore opportunities to return to television. Screening the show online and via traditional media gives us the opportunity to provide a toolbox for change, so people can find easy ways to help causes that inspire their passion.
Congratulations, Alicia, and thank you for sharing more than one minute with us!