Best of Show Winners – Television

Powercorp International (United Kingdom), The Summit, miniseries, is an intelligent and powerful thriller set on the eve of the next G8 Summit. The heroine (Mia Maestro) in her desperate struggle to gain justice for her murdered son and prevent a bio-terrorist threat to the planet. Crowd-pleasing, fast-paced television. With veteran actor Christopher Plummer.
Minds Eye Entertainment (Canada), The Englishman's Boy, miniseries, is another stunning achievement by Mind's Eye Entertainment. It tells a story of deceit, manipulation, guilt and violence set against the dual backdrop of the 1873 North American frontier and the allure of 1920's Hollywood. It contains a brilliant performance by Bob Hoskins in a leading role.
Best of Show Winners – Film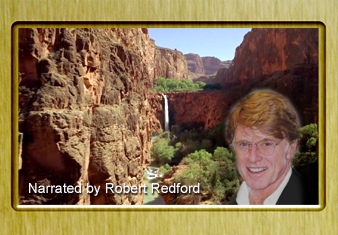 MacGillivray Freeman Films, Grand Canyon Adventure: River at Risk, feature documentary, pops IMAX 3D images off the screen of the Grand Canyon and river-rafting action. Narrated by Robert Redford, it conveys the important message of the need to protect the river and how ordinary people can make a difference for our parched planet. Stirring score with songs and music from the Grammy Award-winning Dave Matthews Band.

Daniel Trezise, Outsource, short film, is a smart tale of love freeing itself from the enslavement of technology. The film is well-crafted, and unlike so many other films, uses animation to enhance the storyline rather than allowing animation to dictate the storyline. Skilled direction, editing and use of sound from the exceptionally talented Visual Effects artist Daniel Trezise.
Best of Show Winners – Videography

Golightly Films, Inc., A Journey to Joy, nonprofit/fundraising, tells the story of children and families battling cancer and how their struggle touches the lives of everyone they meet. Unlike most other production companies that produce non-profit branding videos, Golightly Films allows viewers to join a process of discovery about the charity rather than being told what to think. This video is an excellent example of the use of storytelling to foster a non-profit campaign.

Award of Excellence Winners – Film
Craig Miller Productions, State of the City: Atlanta, viewer impact: content/message delivery
Hanway Films (United Kingdom), The Portrait, short film
Inspire Entertainment, Five Years of Forever, direction, and leading actor (Luke: Justin Golding)
Joaquin Baldwin, Sebastian's Voodoo, animation
Kishitij Movies International (India), Manatlya Manat, feature film
MAKE, llc., Ľamie de Zoé, animation/cartoon
NEWIST/CESA7, Do Not Go Gently, viewer impact: motivational/inspirational
Possum Den Productions, Skiptracers, feature film
Real Media Productions, For Tomorrow, feature documentary
Rich-Heape Films, Our Spirits Don't Speak English: Indian Boarding School, feature documentary
Skye Borgman, Junk Dreams, feature documentary
Thenjiwe Nkosi, The Elephant King, short documentary
Toothin Theatre (Canada), The Death of Alice Blue, leading actor (Alice)
Wounded Eye Media, Cafe Forte, experimental
Award of Excellence Winners – Television
Big Sur Media, Inc., The Costal Gardener: Harvest of Heirloom Apples: Garfield Conservatory, on-camera talent (Dave Egbert); and The Costal Gardener: Louie Anderson and Sustainable Living In Las Vegas: Home Orchids, on-camera talent (Dave Egbert)
Dori Media Group (Israel), Arab Labor, drama program/series
Kentucky Educational Television, Churches, videography
Minds Eye Entertainment (Canada), The Englishman's Boy, direction, dramatic impact, and leading actor (Shorty McAdoo: Nicholas Campbell)
Radio Television Hong Kong (Hong Kong), 512 Aftershock, drama program/series
RedEye Professional Post, Meet America, sales/branding/product demonstration
RHI Entertainment, Dr. Jekyll & Mr. Hyde, cinematography
Shanghai TV Station/NDR (China), The Red Race, feature documentary
Award of Excellence Winners – Videography
Fuel Productions (Canada), Fuel Education System: Fuel for Design, educational/instructional/training
Lumen Catechetical Consultants, Inc., The Vocation to the Religious Life for Men, religion/ethics


Honorable Mention Winners – Film
Adam Desaulniers, In Passing, short film
Alonso Homs, The Embrace, short film
Amanda Cornelius, Full Contact, feature documentary
Amber Beard, Growing Up Vegas, short film
Arvind Singh, Searching for Juan Carlos, short film
Asbury College, The Twisters, short film
Baley Wynn, Daisy, short film
Blake Harris, The Flying Scissors, feature documentary
Bullhead Entertainment, LLC, The Cave: An Adaptation of Plato's Allegory in Clay, animation
Busch League Entertainment, Between the Water and the Wood, feature documentary
Cary Sontag, Release, short film
Chad Benjamin, Be, short film
Chihwen Lo, An Unquiet Mind, short film
CouryGraph Productions, The Legend of the Evil Count Spatula , short film
Creative Consciousness, The God Project, feature film
Dan Packer, Busdrive My Heart, feature film
Daniel Salinas, A Reason to Live, short film
Deborah Harse, Marathon Beirut: For The Love of Lebanon, feature documentary
Eduardo Letamendi, Rising Up, short film, leading actor (Tee: Ramses Jimenez), and original screenplay
EFF Productions, Flunked, feature documentary
ETP-NEW, Any School: Any Time, feature documentary
Felice Lesser Dance Theater, I Am A Dancer, choreography
Fern Films, Inc., Proud Iza, adapted screenplay
Florida State University – Film School, Precious Cargo, short film
Francoise Gralewski, Bon Voyage, short film
Freebird Films, When the Body Speaks, short film
Giorgia Farina (Italy), Zona Rossa, short film
Governor Films/Othello Film Production, Inc. (Canada), Othello: The Tragedy of the Moor, special purpose film, and leading actor (Othello: Carlo Rota)
Hale Manor Productions, London Betty, feature film
Harvard VES Animation, The Life of a Fly, experimental
Hemisphere Entertainment/Power In Film, LLC, Closure: The Problem With Money, feature film
Inertia Films, ING RFSB 2008 Sizzle Reel, special purpose film
Illmoral Films, The Insides of a Lamb: Loin Shank Cut, short film
Inca Pictures, Are We Still The Ugly Americans?, feature documentary
Inspire Entertainment, Five Years of Forever, short film, and leading actor (Julie: Charlotte Geijer)
IntotheFireProductions/PeteGalaxieProductions, The Silence of Bees, short film
J' Hue Film Productions, Spitting Game: The College Hook Up Culture, feature documentary
Jacked Productions, Gangster's Crib, humor/humorist
Jarial (Canada), Two Islands, short documentary
Jason Hildebrand (Canada), The Prodigal Trilogy, contemporary issues/ethics/religion
Jeff Cassidy (Canada), Incident At A Truckstop Diner, short film
Kathleen Russell, Family Court Crisis: Our Children at Risk, feature documentary, and viewer impact: content/message delivery
Kevin Massicotte, Bleeding Green, short documentary
La Chima Films, Pickup and Return, short film
Lightshaft Entertainment (Australia), Eleven, short film
Luciano de Fraia (Italy), Naples: The History, feature documentary
Lucky 8 Productions, Fun On Earth, short film
Max Groff, Fossil Fools, animation
Moments (Greece), A Wedding in Austria, videography
Mark McKenzie, The Ultimate Gift, original score
May Sky Entertainment, A Driving Lesson, short film
NEWIST/CESA7 – University of Wisconsin, Shelter from the Storm, short documentary
Nicole Wright, Greg and Emilia, humor/humorist
Ocular Nutrition (Canada), Nightclub Story, short film
Old Virginia Films, LLC, My Hero, short film, and casting
On The Leesh Productions, Denim, short film
Orange Pictures (Germany), Show de Bola, feature film
parkandco, Poor Profits, short film
Parveen Shah Productions, Marwa, short film
PCI Communications, ASAE 2007 Day 1 Opening Video, creativity/originality
Philip Steinman, Journey to My LA Marathon, feature documentary
Poetic Video, Stanislav Stanek My Blues and Greens, feature documentary
Regent University – School of Communication, Order, short film
Resonate Pictures, The Engagement, commercial/training/industrial films, and humor/humorist
Rubber Ducky-Volt Productions, Le Grand Voyage de Giovanni, short film
Shirley Park, Hear the Children, viewer impact: motivational/inspirational
Simon Harling, Under the Hood, short film
Smitha Chadaga, Gameshow And Tell, feature documentary
Temple Media – Custom Made Films, Poke the Sleeping Bear, short film
Toothin Theatre (Canada), The Death of Alice Blue, feature film, and direction
Twinvision Entertainment, Catching Dreams, feature documentary
University of Oregon, Reinventing Ed's Coed, short documentary
University of Southern California, Welcome Home, short film
University of St. Thomas, Beyond TV: Your News in a Digital World, short documentary
Vanessa Turner, The Mattress Hustle, short film
Villa Media Productions, LLC, Alondra Smiles, feature film, and original song (Song #9: Alondra & Armando's Love Theme)
Vortex Solution (Canada), Alicja Wonderland, short film
Honorable Mention Winners – Television
Backstage Productions International (Canada), The Story of Lydia, children/family programming, and voice-over talent (Steve Thomson)
Big Sur Media, Inc., The Costal Gardener: Harvest of Heirloom Apples: Garfield Conservatory, viewer impact: entertainment value; and The Costal Gardener: Dave Travels to Kauai: Hawaii Native Plants/Tropical Blooms, videography
Jester Pictures, Change, music video
Kiducation, Smart Songs, pilot program/series
L.A.F. Productions, It's All About Youth: Mad Scientist, children/family programming
Minds Eye Entertainment (Canada), The Englishman's Boy, casting, cinematography, editing, and supporting actor (Damon Ira Chance: Bob Hoskins)
NewDominion Pictures, A Haunting: The Unleashed, documentary
Powercorp International (United Kingdom), Pinocchio, drama program/series
Producers Inc!, Lip 'Em & Rip 'Em, sports/fitness
Radio Television Hong Kong (Hong Kong), Success Stories: Jet Li, feature documentary; and Life on the Margin: The Scavenger's War, drama program/series
RedEye Professional Post, Lift Every Voice (BET), pilot program
Regent University – School of Communication, Washed By The Water, music video
RHI Entertainment, Dr. Jekyll & Mr. Hyde, movie made for television, and direction
The Creation Lab, Turlock, feature documentary
The War Amps (Canada), Jeff Nicklin: Hero of the Gridiron & the Battlefield, movie made for television; and Á la Manière de Marie-Claude (In the Style of Marie-Claude), viewer impact: motivational/inspirational
Tim Keefe, Watercooler of the Future, comedy program/series
WPBS TV, Empower, documentary
Honorable Mention Winners – Videography
Alliance For Aging Research, A Quick Look at Alzheimer's, health/medicine/science
American Psychological Association, International Psychology, educational/instructional/how-to
Antley Drive Productions, Hope Among Us, documentary
Daniel Hale, Environmental PSA, public service programming/PSA
Koel Productions, Tracy Kiger & David Sanchez, wedding
Steven Fanizza Productions, Inc., If Only Life Were Like An Apple Vacation, commercial/infomercial
United States Golf Association, Promotion: 2008 U.S. Open, sports
Weddings By SML, A Collaboration of Bliss, wedding
Winds of Fire Entertainment, Changing A Mind, documentary & viewer impact: content/message delivery